There are many different poker variants, but few compare to the excitement offered by three-card poker. This is a fast-paced and easy-to-learn variant that's gained popularity in brick-and-mortar and online casinos around the world. Whether you're a seasoned poker pro looking for a new challenge, or a casual gambler looking for something different, this unique twist on poker might be just what you're looking for, regardless of whether you prefer to play online poker or at a brick-and-mortar casino.
Explore the history, rules, and strategy of this exciting poker game below.
History of Three-Card Poker
Poker has always been one of the best offline and online casino games since it provides a fun and thrilling gaming experience for new and experienced gamblers. But some players do find the occasional slower moments in the game off-putting, and many wished for a simpler version that they could play against the house. Derek Webb was one of those players. An avid gambler himself, he created and patented three-card poker to fill a gap that he saw in the casino market in 1997.
Webb had faith in his game and created a company called Prime Table Games to market and distribute the game in the U.K. Unfortunately, Webb faced an uphill battle against the U.K.'s strict gambling regulations, so he shifted his focus and put his time and energy into selling the game to U.S. casinos. Being new to the U.S. market, things didn't come easy for Webb and his innovative poker game. However, Grand Casino Gulfport, a casino from Mississippi, took a chance on Webb and his game.
After the initial success, Prime Table Games continued to market the game in the U.S. Eventually, Shuffle Master (now a part of Bally Technologies) acquired the rights to distribute the game in America.
Things took another positive turn for Prime Table Games in 2002 when U.K. gambling legislation was changed to allow three-card poker to enter the U.K. gambling market.
Three-Card Poker Rules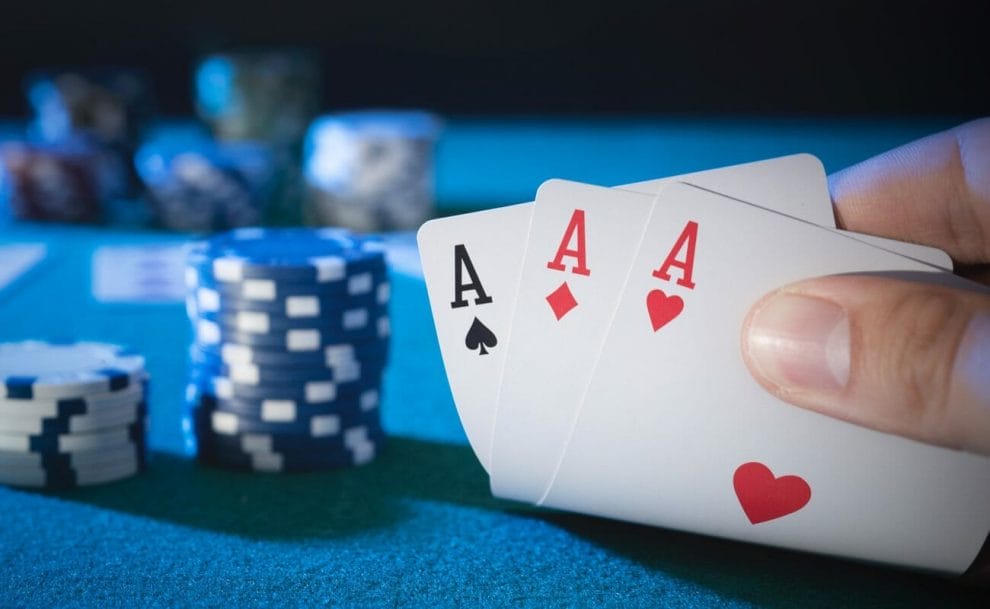 At a glance, three-card poker might appear to play like a cross between blackjack and five-card poker, with players pitting their three-card poker hands against the dealer's three cards. But if you're learning poker or blackjack, there are some important differences between these games and three-card poker. 
A game of three-card poker begins with each player placing an ante wager, a pair plus wager, or both. The ante wager is simply a wager that your hand will be better than the dealer's, while a pair plus wager is whether you'll be dealt a pair or better.
The pair plus bet pays out regardless of whether your hand beats the dealer or not. The payout odds are as follows:
Pair: ±100 payout odds.
Flush: +400 payout odds.
Straight: +500 payout odds.
Three of a kind: +3,000 payout odds.
Straight flush: +5,000 payout odds.
After this initial wager, the dealer deals three cards to players and themselves. After they receive their three-card poker hands, they must decide whether to fold or play. If they fold, the ante bet is forfeit. If they play, they must place a play wager that is the same as their ante wager.
Just as in poker, the decision to play or fold will depend on the strength of your hand. These are the different hand ranks in three-card poker:
Straight flush: Three cards of the same suit in sequential order.
Three of a kind: Three cards of the same rank.
Straight: Three cards in sequential order.
Flush: Three cards of the same suit.
Pair: Two cards of the same rank.
High card: Three random cards with varying values.
After all the players have decided to play or fold, the dealer will reveal their cards. The dealer can only remain in play if they have a queen high.
If the dealer does not have this minimum value hand, all players are paid out 1 to 1 on their ante bets, with the play bet being a push.
If the dealer does meet this minimum value hand, their hand is compared to the other players.
Players who win will be paid out at odds of ±100 for any of the bets they have made. If the dealer wins, the dealer takes any bets they have made.
The good news is that even if you lose to the dealer and have only placed an ante bet, you'll still get a payout for your ante bonus if you get these three hands:
Straight: ±100 payout odds.
Three of a kind: +400 payout odds/
Straight flush: +500 payout odds.
Three-Card Poker Strategy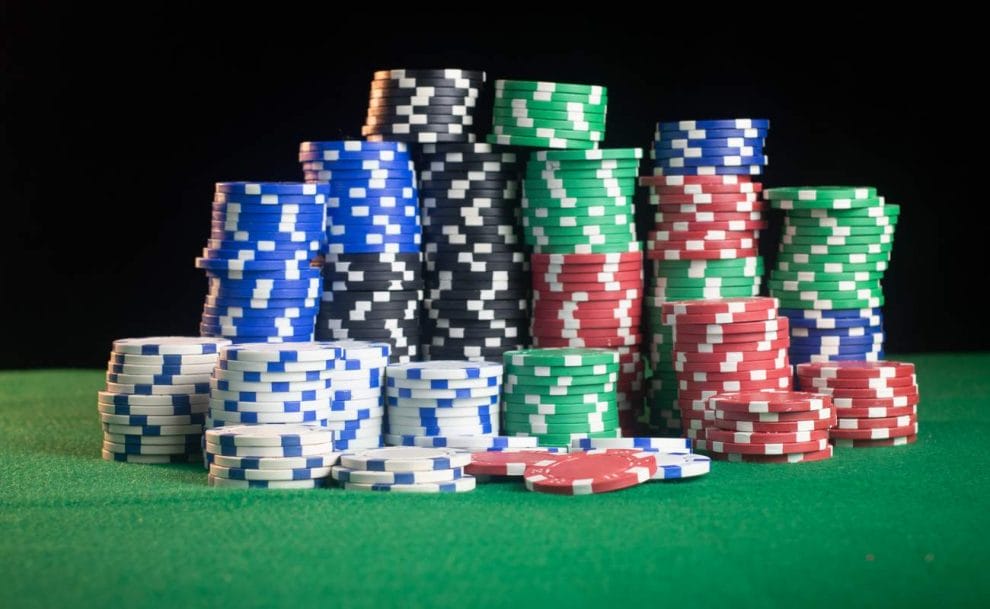 While there are many games that involve complicated strategies to help you improve your chance of winning, there are only two quick tips that you need to improve your odds of winning at three-card poker.
You should only place a play bet if your hand is a queen, 6 and a 4 or better. Otherwise, you should fold.
Avoid any side bets if your main goal is to win. Some three-card poker games offer side bets, and while these may offer very generous payout odds, the chances of winning are incredibly low.
With these two simple tips, you're ready to play.
Play Thrilling Three-Card Poker and More at Borgata Online
Looking to put what you've learned about this poker variant to the test? At Borgata Online you'll find many exciting poker game variations, including live dealer three-card poker and traditional digital versions of Texas Hold'em and Omaha. When you play poker online at this online casino, you'll get to enjoy some of these poker variants in cash game and poker tournament formats, offering a great experience for both serious and casual players.
But that's not all that you can enjoy at this online casino. There are also other fun casino table games like baccarat, blackjack, and roulette. You can also play exciting slots, virtual sports, variety games, and more.
To join in all the poker, slots and other gambling thrills, register at Borgata Online.