We all know how popular online bingo games are in the UK and how well-loved online slots are in the US, so it's no surprise that the latest hybrid, Slingo, has been such a massive hit worldwide. This revolutionary format, combining the best of both games, is now available in a variety of themes across several gaming platforms. 
If you've been playing bingo at home online and are looking for some variety without straying too far from the known, you will undoubtedly find Slingo enjoyable! Let's take a look at how this game came to be, why it's such a hit and how to play it.
The history of Slingo
While the origins of bingo go back all the way to the 16th century – and slot machines have been spinning since the late 1800s – Slingo was invented in 1994 and has only blown up in the online casino industry in recent years.
Slingo was created by New Jersey real estate developer Sal Falciglia Snr who wanted to bring together his grandfather's two favorite games – bingo and slot machines! The original version was built on a 1950s slot machine, but over time Falcigia redesigned the machine to spin the reels with numbers corresponding to those on a 75-ball bingo game. The player would have 20 spins to match the numbers from their 25-number bingo card, with the aim of completing the card. There were also three additional icons: a joker, which was the wild; a devil, which cut your score in half; and a cherub, which quelled the devil's punishment.
Falciglia then took his creation to a computer programmer to make a digital version of the game and pitched it to AOL, who signed a contract within two days of the pitch to feature it on their platform. Slingo Inc. was founded to market Slingo Original games and modern technology has seen the concept evolve into colorful, exciting and unique casino games. RealNetworks acquired Slingo in 2013 for $15.6 million and then sold it to Gaming Realms in 2015. Slingo Originals now features a wide selection of uniquely themed games that are featured at the best online casinos worldwide, including Borgata Online.
How to play Slingo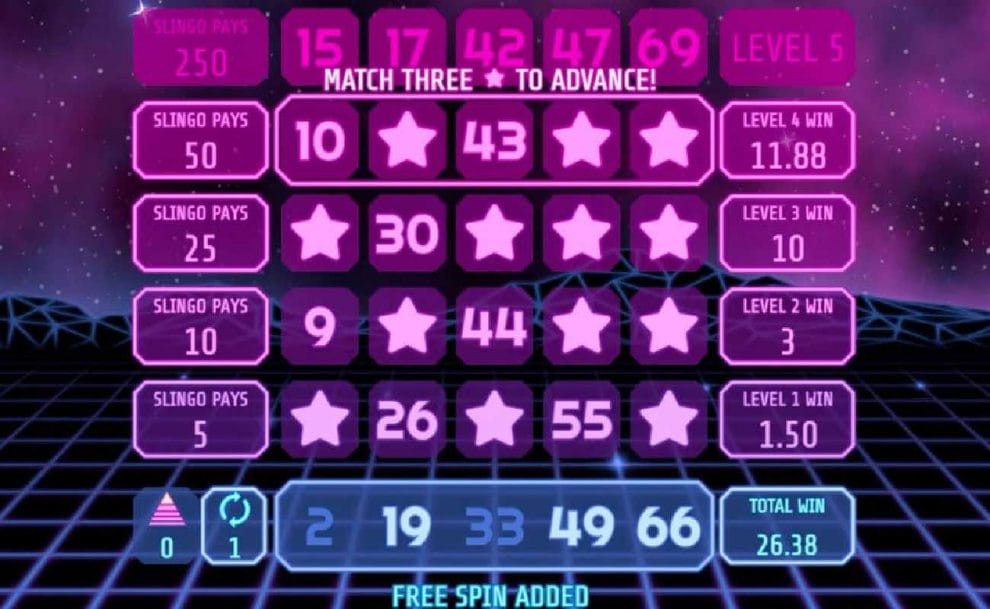 If you know how to play bingo, you've already covered half the bases! The average Slingo game uses a slot-style reel featured at the bottom of the game screen and a 5×4 grid of numbers relative to a 75-ball bingo game. Rather than matching a row of symbols as you would in a slot game, the aim is to match the spin result to the numbered grid. Players typically receive a card with 20 numbers and each game features an average of 20 spins. Each completed row provides a bonus, such as a cash prize or an extra spin and the more numbers you're able to match, the greater your chance of winning the big prize. 
As you can see, this provides both the matching of symbols that slot lovers seek and the satisfaction of crossing off numbers that bingo fans appreciate. While Slingo is undoubtedly a game of chance, some strategies can be used to help fill your Slingo card.
Firstly, we recommend exercising caution when buying extra spins. These costs can add up and it's important to keep an eye on your bankroll when gambling. We also suggest using multipliers, power-ups and other bonus features to your advantage during games. It's best to fill out an entire row at a time rather than trying to fill corners when you have a joker wild, for instance. With a bit of practice and experience, your Slingo skills are sure to help create a fun and lucrative gaming experience.
Top Slingo games at Borgata Online
Borgata Online offers a wide selection of Slingo Originals for players to enjoy. From gameshow-inspired titles to those based on your favorite slot games, there's something for everyone.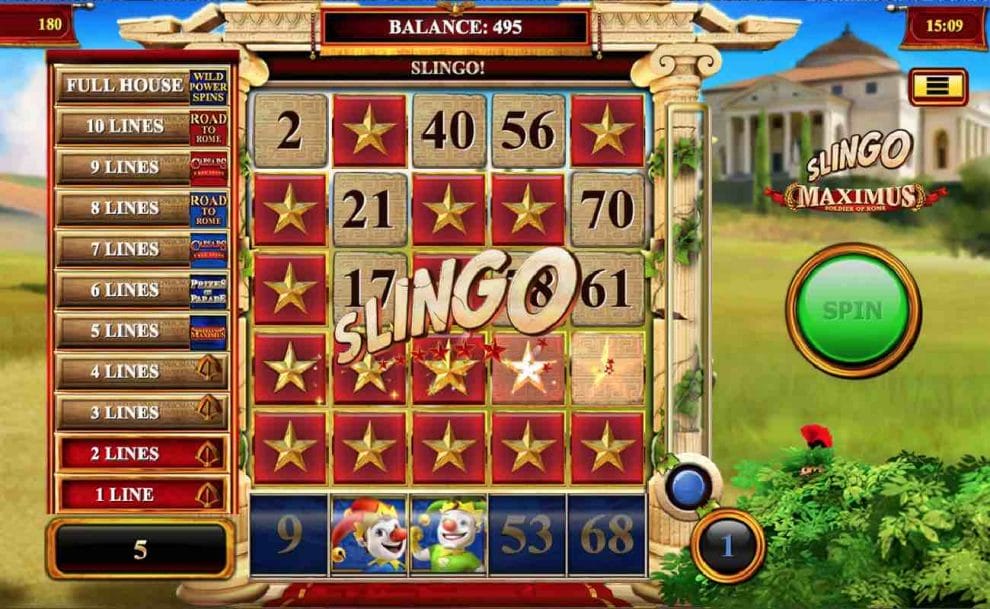 Deal or No Deal Slingo: Slot fans have been enjoying this widely popular game show on their reels for years and now Slingo fans can get in on the action too! Players will get to select their lucky briefcase and then spin the reels to mark the other cases on the grid. Just like in the TV show, each match eliminates a prize from the game and you get to choose "Deal" or "No deal" when presented with the Banker's offer to progress up the Prize Boost Ladder and make your way to the hot seat.
Slingo Reel King: Bringing the Reel King mechanics to your Slingo game, you'll be hoping for a ding, five of which will activate the Reel King bonus to provide extra prizes during your game. The game plays like any other, with the addition of exciting bonus features to make your gameplay extra dinging special!
Slingo Advance: If retro-style computer games are your thing, Slingo Advance is the game for you. Known as the Starburst of Slingo, Slingo Advance features clean, colorful and crisp graphics that take you to outer space. Each match reveals a star with a prize amount attached and there are different jackpot amounts available if you manage to soar across the galaxy and mark numbers off in a row diagonally, vertically, in a "T" shape or an "X" shape.
Slingo Maximus Soldier of Rome: Is Maximus Soldier of Rome your favorite online slot game? Or perhaps you enjoy all games based on ancient civilizations. If so, Slingo Maximus will not disappoint. Bringing all the glory and honor of the Roman battlefield to your screen, this title offers powerful Maximus features – but you'll need to conquer the devils, with the help of the joker, to come out victorious!
Play bingo, slots and Slingo!
Enjoy the best Slingo, slots and bingo online in the USA when you register with Borgata Online. Of course, if you prefer 90-ball bingo, you can buy 90-ball bingo cards straight from Borgata Bingo and get playing! Be sure to review the 90-ball bingo rules before entering a game to ensure a fun, relaxed session.