Adopting a healthy eating regimen is one of the best things you can do for yourself. Looking for ways of how to eat healthy at home should be high on your list of priorities when it comes to good living. And when you're playing online casino games, it's worth finding a great balance when it comes to the food that you're snacking on. 
Eating well at home can help to lower your risk of heart disease as a better diet can improve your cholesterol levels, reduce your blood pressure, help you manage your body weight and control your blood sugar.
Let's take a look at the ways that you can live a more balanced life by starting with healthy food to eat at home.
1. Shop with a list
Grocery shopping can potentially make or break a good healthy-eating plan. It's important to write down your shopping list before you leave the house and avoid going to the shop hungry. If you go to the grocery store without a list, the temptation of impulse buying becomes a big risk. Instead, before you set off, try to take the time to look at what you need and write it down. This will help you stick to the essentials rather than buying what you see and crave in the moment.
2. Avoid overbuying
It might make sense to buy in bulk to avoid extra trips to the grocery store, but buying more than you need can lead to food waste and/or oversized portions. Stockpiling fresh food is not a good plan, because items like vegetables will spoil if they're left for days on end. Mindful shopping is key to avoiding wasting food. 
3. Plan weekly meals
Meal planning is an easy way to help you improve the way you eat. By thinking ahead about what meals and snacks you could have, you'll boost your chance of success and be more likely to choose healthier foods. You'll also quickly discover where your dietary weaknesses lie and can then make changes to your weekly menu to get a healthier balance, if you wish.
4. Respect portion control
When you implement portion control, you're choosing a healthy amount of a certain food. This allows you to get the benefits of the nutrients in the food without overeating. By employing portion control, you can digest food easier, stay energized throughout the day, and control blood sugar levels. A simple search online will help you to determine the correct portion for various foods and snacks. One tip is to switch to using smaller plates and bowls to serve your meals – the same portion of food will look larger!
5. Alternate your cooking pattern
Consider mixing up how often you cook. For example, consider trying some batch cooking – perhaps a pasta bake or maybe a stew – when you're able to, and portioning out a meal. Freeze the rest of the food and defrost whenever you would like to eat it again. When you're not batch cooking, always make sure you have things on hand that are easy to prepare. This way you can switch up your meals for the week. By not having to cook every time, it will make it a more enjoyable experience, especially if you have a busy lifestyle. You should also consider incorporating the same ingredients in various ways to keep things interesting.
6. Create your own sauces and dressings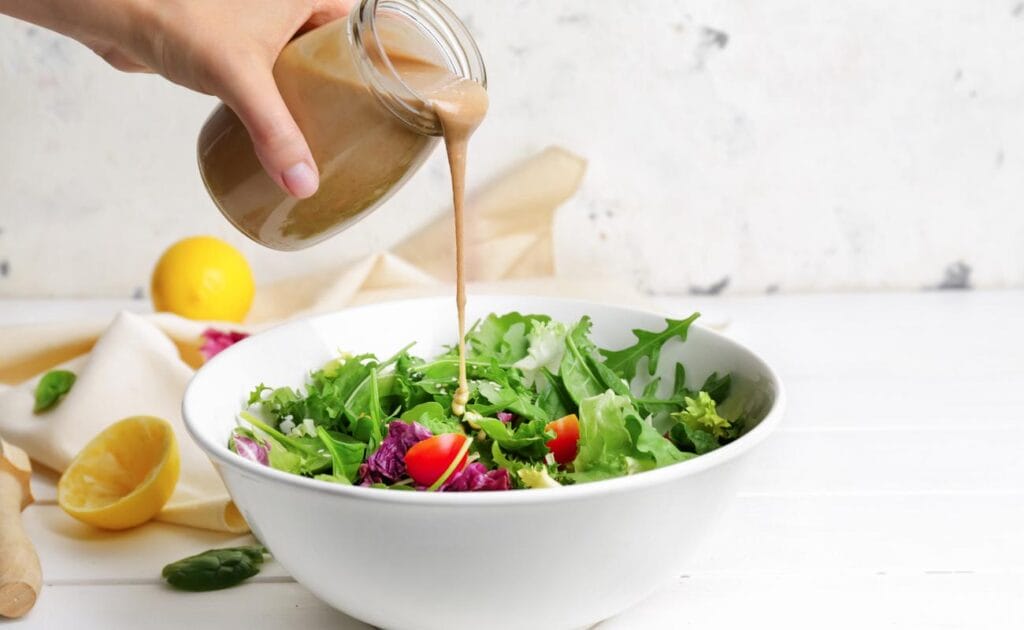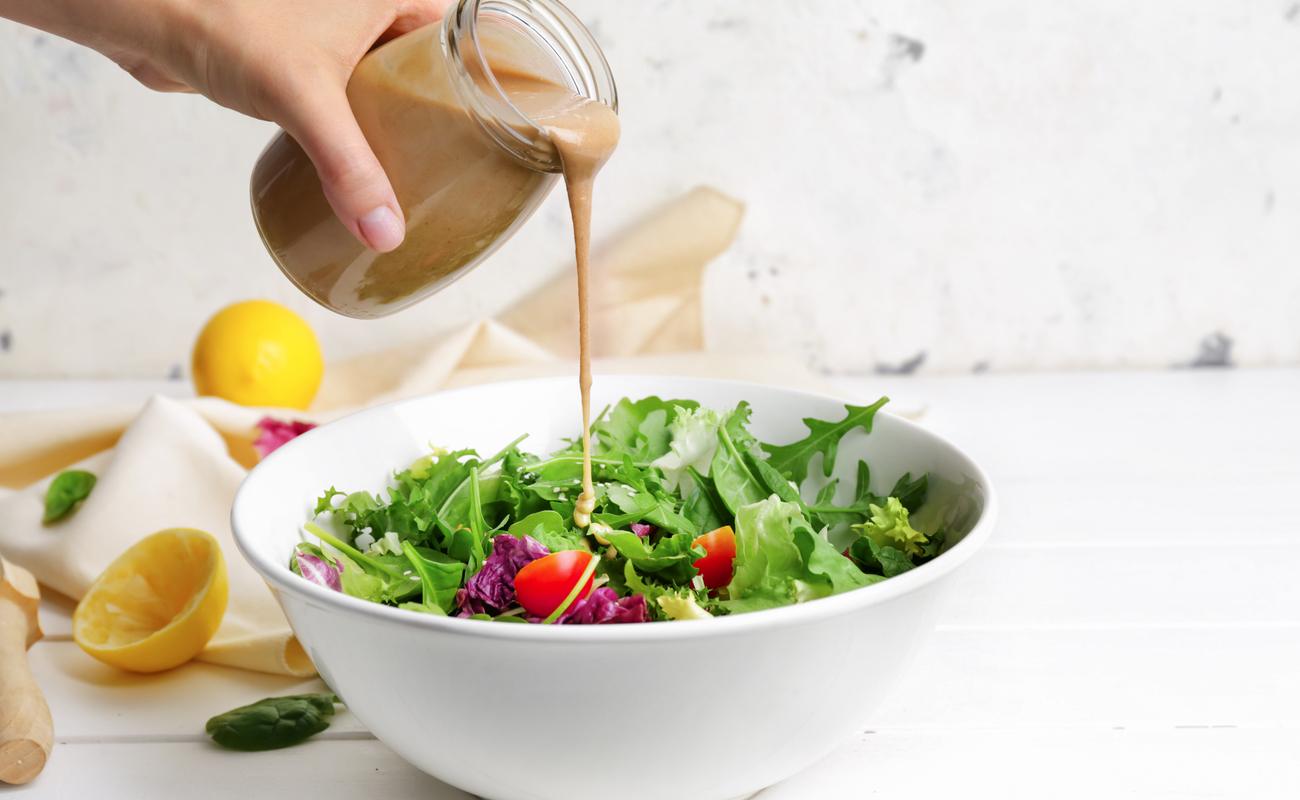 You can have fun in the kitchen when you make your own salad dressings, plant-based milk, oils and pasta sauces. Store-bought products can be filled with fat, calories and salt, which can increase the likelihood of having high cholesterol. By learning to make your own sauces, salad dressings and other pantry staples, you'll be able to add ingredients with a nutritional benefit and make flavorful products that aren't crammed full of preservatives. 
Homemade dressing and sauces tricks
Instead of using oil, opt for vinegar as a dressing base. Keep calories in check by adding more vinegar, lemon juice or orange juice instead of an oil base for your homemade salad dressing. 
If you're thinking of making your own Alfredo sauce, opt for low-fat cottage cheese. 
Rely on fresh produce. Fruit and vegetables can serve as the base for dressings and sauces. 
Healthy snacks to eat while enjoying casino table games
While you're playing slots online and maybe other casino table games such as online poker, it's normal to have some snacks at hand. Here are some healthy snacks to munch on while playing your favorite online casino games:
Nuts: Some nuts are known to be high in protein, which can help fuel your body and relieve hunger. Look for almonds, walnuts, pistachios, cashews and hazelnuts if you're searching for high-protein snacks. Many online casino players also enjoy snacking on seeds while playing, especially sunflower and pumpkin seeds. These seeds are also high in fiber and can help to lower cholesterol levels when incorporated into a healthy diet.
Pita bread and hummus: Instead of grabbing a bag of crisps, opt for some delicious pita bread and hummus (home-made, if you can teach yourself how to make it!) If you're missing the crunch, simply replace the pita bread with carrot sticks and celery.
Frozen grapes: If you have a sweet tooth, frozen grapes work out as the perfect alternative to candy. Try adding frozen grapes to your online casino fun. They're low in calories and can provide your body with nutrients.
Oatmeal: A bowl of oatmeal is never a bad idea as oats are high in fiber, antioxidants and vitamins, and may help to lower your blood pressure. Add cinnamon, apples and peanut butter to your bowl of oatmeal to spruce up the taste.
Play the best online casino games and partake in online sports betting at Borgata Online
Now that you have some useful tips on healthy eating at home, you can prepare some delicious snacks for your online casino gaming experience. Whether you're looking for the best online slots and casino table game titles or the online sports betting market, you're sure to find it at Borgata Online. Sign up with us and discover a world of fun!