Online slots that are based on Ancient Greek mythology tend to be very popular, although most of the titles in this genre generally focus on the Greek gods – Zeus in particular. With this in mind, Griffin's Throne stands out, as it ignores the "gods" angle, and instead features the griffin as its symbolic headliner – a mythological creature with the body of a lion, and the wings and head of an eagle. With that unique factor aside, what does Griffin's Throne have to offer? Let's take a look.
Game overview
IGT, which has developed online casino slots such as Cats and Cleopatra Gold, as well as licensed titles such as Jeopardy and Jurassic Park, brings us Griffin's Throne. This online slot offers you fun and excitement with its 5-reel design (for standard play), and has an RTP (return to player) of 96.05%, with variance or volatility that's estimated to be medium to high. As we've already discussed, this game leans heavily on Greek mythology in terms of presentation but definitely succeeds in catching people's attention by being more than just another game based on Greek mythology.   
How to play
When you first start playing Griffin's Throne, it seems like a fairly standard online slot. The game is set to bet 75 coins, with a starting coin value of 0.01. You can then adjust the total bet, which increases the coin value up to a maximum of 30 per coin. Once you're happy with the total bet, you simply click spin to start the game.
The highest-value symbols in the game are the griffin, helmet, vase, shield, and sword; naturally, the griffin is worth the most, while all other game symbols retain the same value. You also play with the standard Ace, King, Queen, Jack, 10, and 9 playing-card symbols that you see in many other online slots. The Ace is the highest value but is still worth less than the griffin, helmet, vase, shield, and sword. The remaining playing cards all share the same value.
Graphics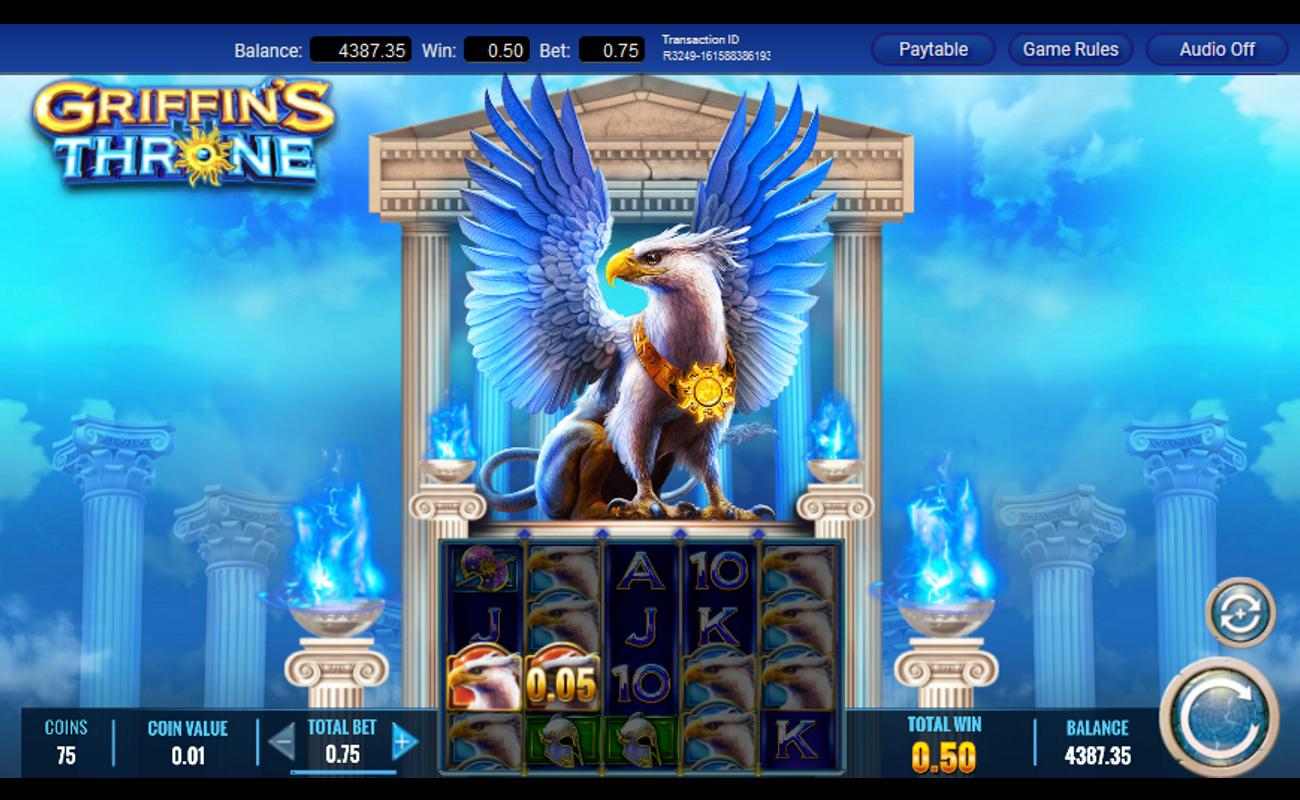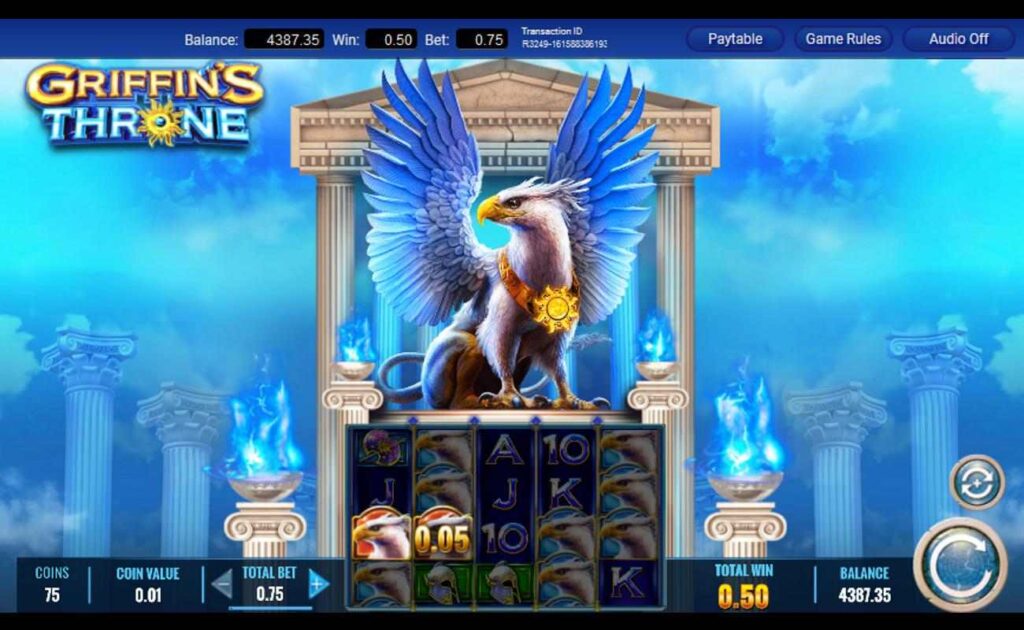 Whether you like this genre of online slots or not, there's no doubt you'll agree the visuals in Griffin's Throne are nothing short of fantastic. The iconic griffin sits upon a throne in the center of your screen and is rendered in exquisite detail. Each part of the mythical creature's body is beautifully painted, and the animations – while simple – are smooth and full of life. Graphics behind and around the griffin are slightly less detailed, but you'll still see wonderfully realized Greek temples that fade into cloudy blue skies. 
The color palette predominantly leans into blue hues, with light creams and yellows standing out from these cooler shades. This is clearly evident on the griffin, with its pale blue wings but bright yellow amulet and white head.
The reel is also incredibly well-rendered and features some wonderfully crisp symbols and icons that also make use of the same color scheme.
For players who are interested in the game's audio profile, the soundtrack features drums and wind instruments that create an "epic" feel, as if you were physically standing in front of this mighty griffin. Other audio cues, such as successfully landing multiple griffin symbols, or even during the spinning of the reels, also connect incredibly well into the overall feel of the sound design.
Features
If you'd like to enjoy multiple spins, but don't want to click "spin" each time, you can configure the autospin feature to play a specific number of spins for you. Using this feature, you can choose between 10 and 50 auto spins, select a loss limit, and also set a win limit. The game also features the standard scatter and wild symbols, as well as a multiplier symbol, which triggers a feature called the Golden Pillar.
Bonuses and jackpots
The Golden Pillar transforms this game from a standard slot into a game that's far more special. When the Golden Pillar triggers, any column that contains a Sun multiplier symbol transforms from 4 rows into 12 rows. These rows are filled with multipliers between 2x and 10x, and wild symbols. During this feature, between 6 and 13 symbols on the columns without Golden Pillars may also transform into wilds.
The game also features free-spins bonuses, which are triggered when you land 2 scatter symbols or more. If you land 2, the game rewards you with 3 free spins, while 3 or more scatters reward you with 10 free spins. You can win even more free spins during the free-spins rounds, up to a maximum of 150 free spins!
And that's the game: you'll find Griffin's Throne provides a visual feast, the chance for some great wins as well as being bags of fun as you spin those reels!
Similar games
If Greek and other ancient cultures are your favorite type of online slots, be sure to give these games a spin:
'Meet the griffin' at Borgata Online
If you're ready to take a chance and see what awaits you in Griffin's Throne, you can play it right here at Borgata Online! We offer many online slot machines – of all types and genres – perfect for those discerning gamers who like to try their luck on all the best online slots. 
But if you play slots online rarely, or just like to mix it up, we also have a massive choice of other casino games for you to enjoy, including live dealer games, table games, and even virtual sports!
To enjoy our casino slot games and more, all you need to do is register with Borgata Online!