If you're on the hunt for exciting casino games to play, then Great Guardians may be just what you're looking for. Imagine bold colors, mythological beasts and eye-grabbing details that take you to an Asian-inspired world. That's exactly what renowned developer Konami delivers in Great Guardians, another one of its exclusive slots.
If you're used to casino table games and think of yourself as a master of live dealer casino games, then you may want to explore what an online casino can offer you. Great Guardians is an online slot machine that has mass appeal right now. So, if you want to learn more about how to play the game and some of its notable features and graphics, keep reading!
Game overview
Great Guardians is inspired by Chinese mythology, which features majestic beasts and creatures. It's no wonder that elements of Chinese culture and symbolism play a significant role in this game. The Azure Dragon of the East, White Tiger of the West, Black Tortoise of the North and the Vermillion Bird of the South are some of the most well-known of these mythical beasts. If you're familiar with Chinese mythology, you'll quickly identify how these four famed beasts have been reimagined and brought to life in Great Guardians.
How to play
One of the main draws of slot games is that the basic gameplay remains the same: you aim to get matches. The most important difference between various slots is that you are introduced to exciting features and graphics with each new game you play.
Like many other online slot games, Great Guardians features 5×3 reels and 30 paylines. The aim is to get three, four or five matches to receive a reward. The minimum and maximum bets are $0.45 and $0.90, respectively. The RTP (return to player) is 96.02%.
Graphics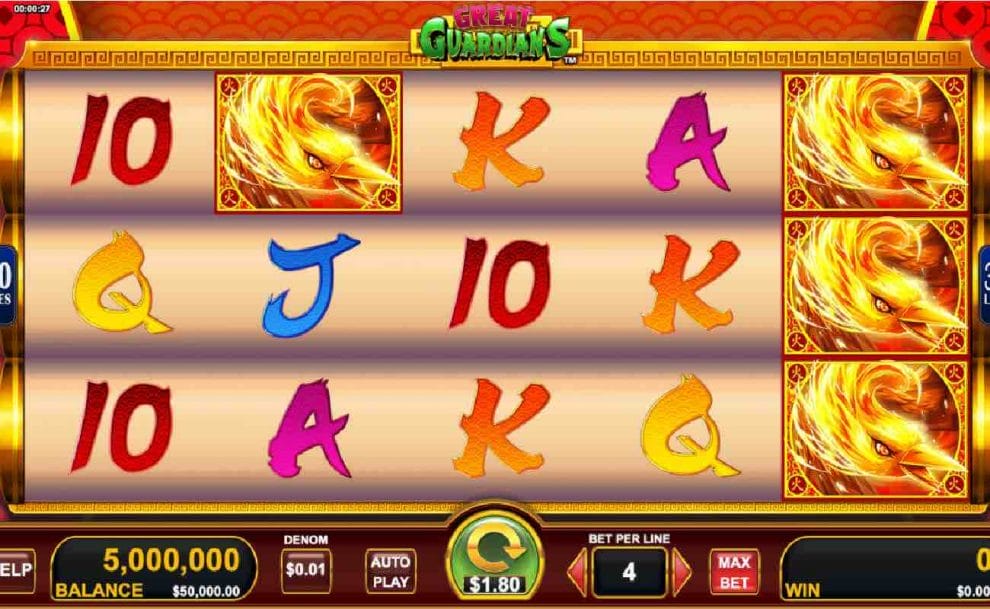 Great Guardians is one of several culture-themed online slots that you can enjoy. Its rich and exciting mix of fantasy and mythology, coupled with cultural elements, make it a visual feast for the avid player.  
The game's backdrop is red and gold, which can be perceived as an ode to the Chinese flag. All the other elements are bright and attention-grabbing, with ancient Chinese calligraphy and a celebratory chime to cheer you on.
Another visual element worth noting is that the four beasts differ in color from the myth. In the game, the Azure Dragon is green, the White Tiger is purple, the Black Tortoise is blue, and the Vermillion Bird is gold. This is an unmissable difference from the blue, white, black and red that you might expect, given the colors in their names.
Features
The four beasts play an integral part in the Great Guardians slot: they possess great power and features that increase your chances of being rewarded. The three core features of the game are wild symbols, mystery multiplier and free games.
The wild symbols are formed when the guardians unite. The mystery multipliers can multiply your winnings, and the free games can give you more chances to win big!
Bonuses and jackpots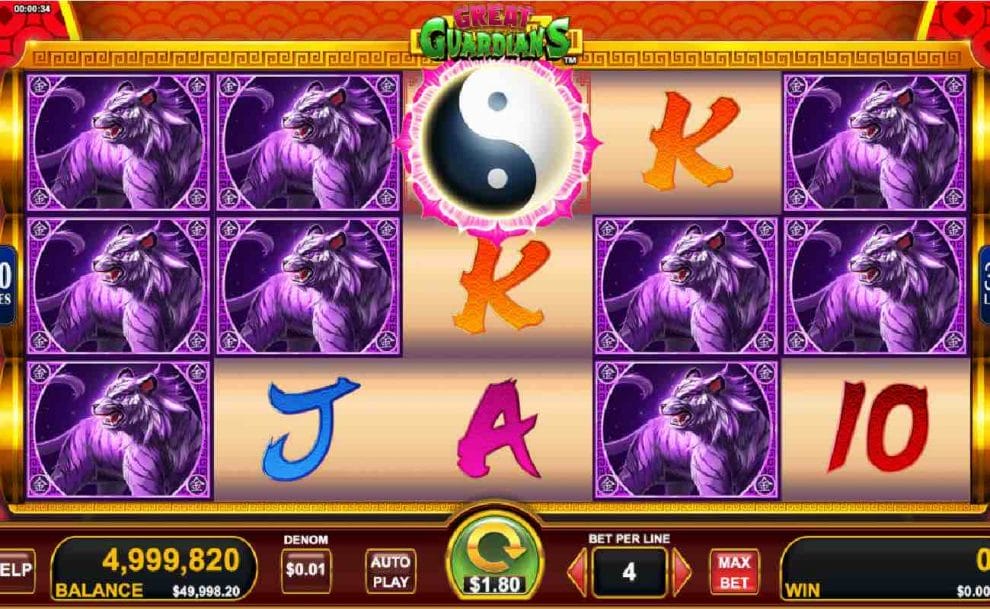 Throughout the game, you can expect to be incentivized with bonuses.
You'll get the wild symbol whenever the four guardians unite. The wild symbol can then become any character that you need to make a winning combination. The mystery multipliers can increase your winnings from 2x to 125x, so they're definitely worth pursuing! They are hidden and only revealed when a guardian lands in a specific position.
The free games are represented by the well-known Yin & Yang symbol. Three symbols give you 10 free games, four symbols give you 12 free games, five symbols give you 25 free games, and six or more symbols give you 100 free games.
Similar games
Great Guardians is not the only slot game that features the four famed beasts. Habanero Systems' The Four Divine Beasts is also inspired by them. This game offers 5 reels and 3 rows, as well as a whopping 243 ways to win!
Other Asian-inspired games by the creators of Great Guardians include China Shores, China Mystery, Dragon's Law and Chili Chili Fire.
Enjoy some thrilling slot games at Borgata Online
With the option to play slots online these days, you can't afford to miss out on some of the most popular titles. Look out for some unique features and graphics as part of the thrill of online casino games. And if you're looking to experience some of the best online slots around, you'll be spoilt for choice when you sign up at Borgata Online.