If you're particularly intrigued by Western-inspired visuals and online slots that ignite a sense of nostalgia, then you've probably heard of Rawhide. Fans of online slot machines can find Rawhide online with minimal effort, given that the game is available on both Android and iOS devices.
Game overview
The title Rawhide is widely associated with the Clinton Eastwood television series of the same name from the 60s; however, there's no link between it and the game. Marking yet another one of the exclusive slots from Konami, Rawhide is a visual feast that'll have you feeling like you're in the Wild West.
In this review, we take a look at how to play Rawhide, discuss the graphics and features, as well as bonuses and jackpots. You can also discover which games Rawhide is similar to. Keep reading to find out more.
How to play
At their core, online slots are relatively easy to play and are user-friendly, and you'll find that's the case with Rawhide, too. In fact, if you've played the physical version of Rawhide, you're set for the online game as well. The premise, rules and bonus features are the same for both.
To get the game started and set the reels in motion, you start by placing your bet. In Rawhide, the wild symbol is the sheriff. This means that it can replace any symbol to help you complete your winning combination. However, it's important to note that the sheriff can't replace the marshal scatter symbol.
Graphics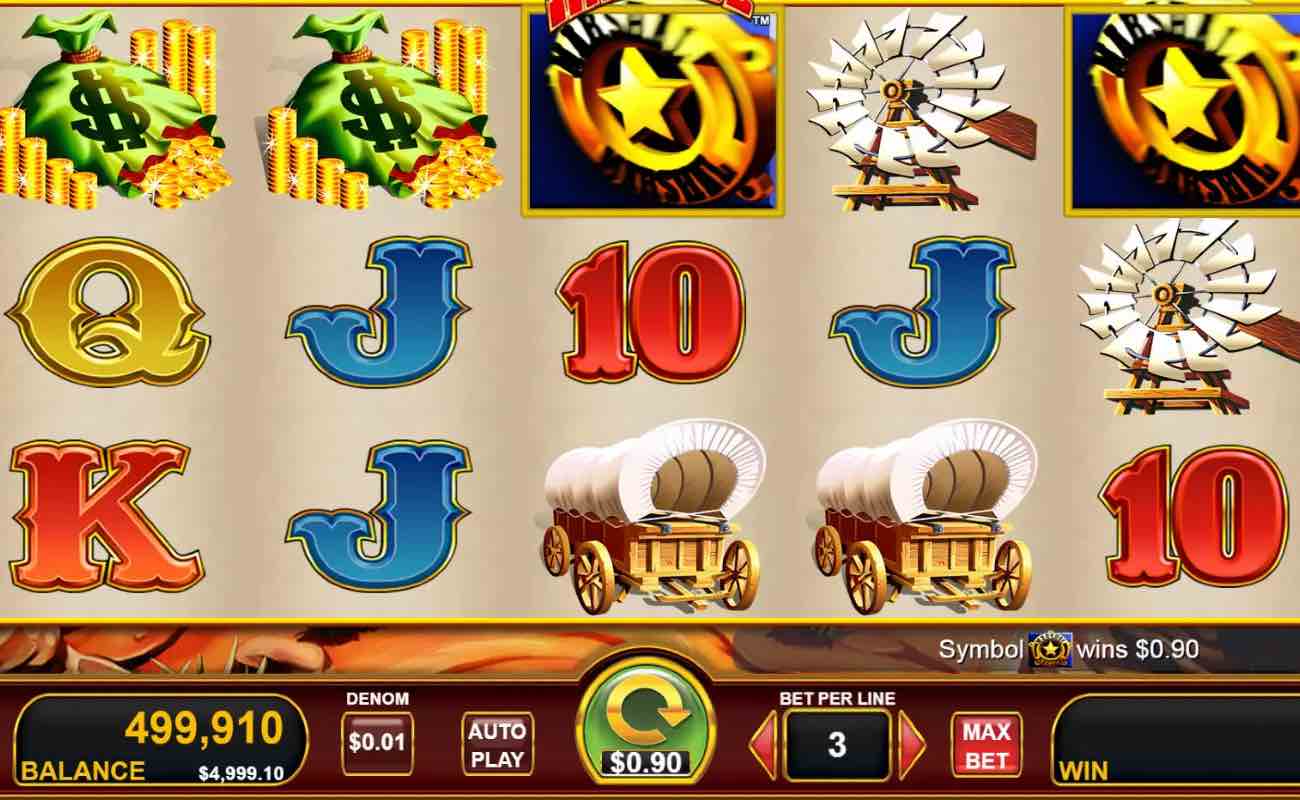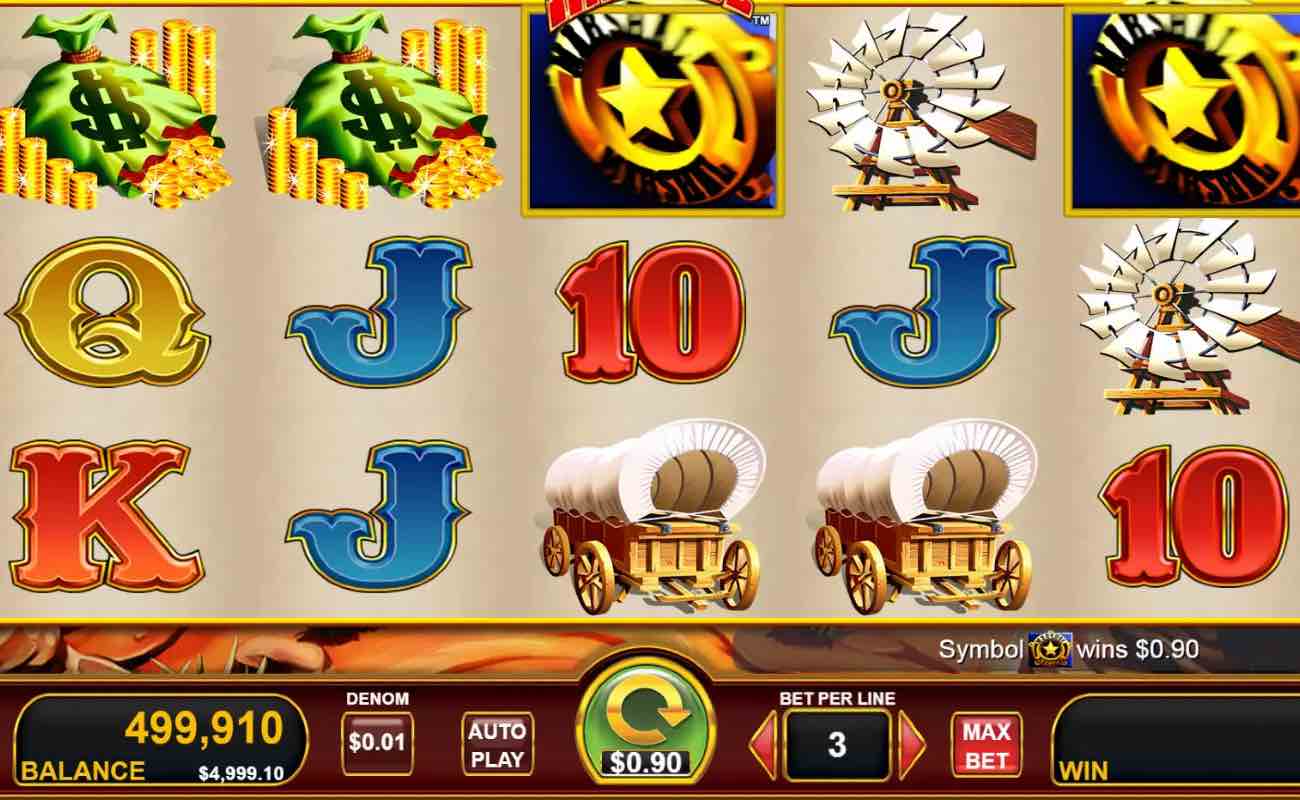 Visually, Rawhide is reminiscent of the Wild West with its dusty brown and copper aesthetic, coupled with shades of yellow and green. Much like other Konami titles, Rawhide is simplistic in sounds and graphics, unlike variety games, making it ideal for those who want to play slots online but without the flashy graphics and attention-grabbing music.
Features
Rawhide is a video slot game by Konami. It offers 5 reels and 30 paylines, with a minimum bet of 45c and a maximum bet of $180. Players can also enjoy free play.
Remaining true to its Wild West, the following symbols are featured on Rawhide:
Sheriff: This symbol rewards you with 1,000 credits when you land five symbols.
Sack of coins: If you earn a sack of gold coins five times, you earn 500 credits. Four of them will earn you 100 credits, three will earn you 25 credits, while two will earn you two credits.
Marshal badge: Earning five marshal badges rewards you with 500 credits, four badges give you 10 credits and three earn you five credits.
Conestoga wagon: When you match five Conestoga wagons, you earn 250 credits. Four matches give you 50 credits, and three matches earn you 15 credits.
Traditional card: Although relatively low-paying, five-of-a-kind earn you 150 credits, four-of-a-kind earn you 25 credits and three-of-a-kind earn you five credits.
Bonuses and jackpots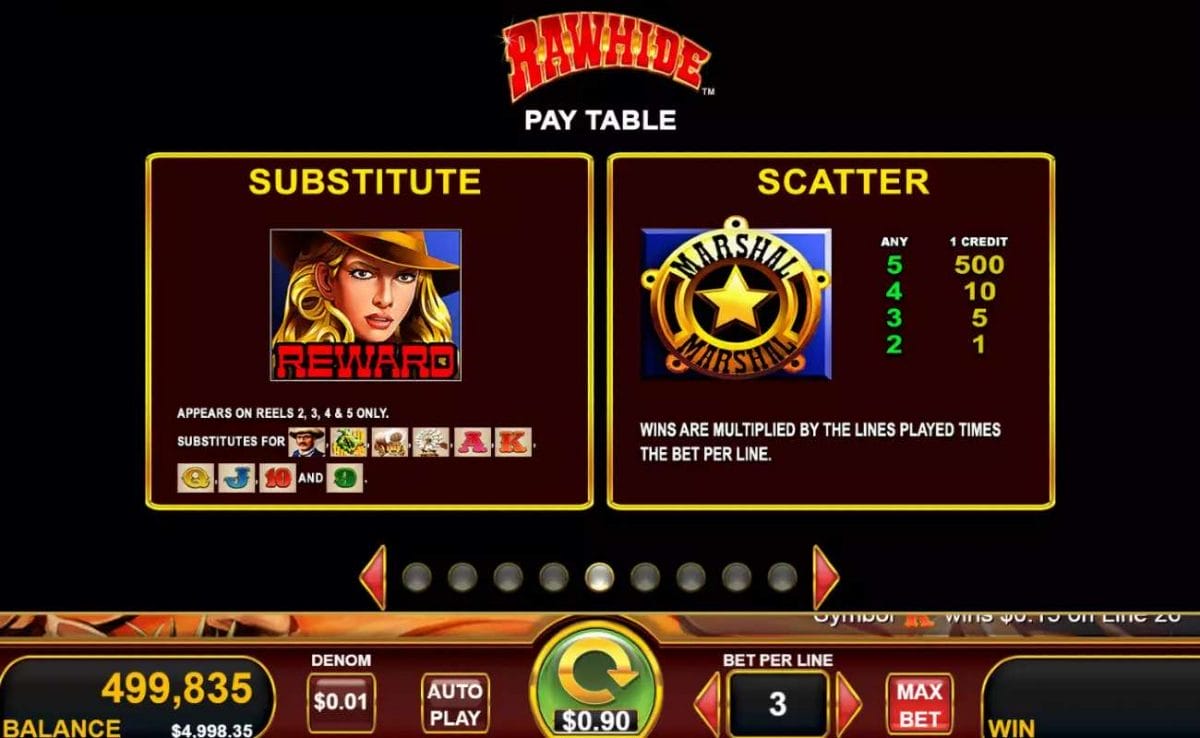 Something that Rawhide players can look forward to are the bonuses and incentives during gameplay. One such example is the free games feature. This particular feature is unlocked when you get three to five Marshal badge symbols on the reels.
Three, four and five badge symbols will reward you with 10, 15 and 25 free spins, respectively. Additionally, your wins will be doubled during the free games.
Another notable incentive is the scatter win, which can see you being rewarded with an instant prize of one to 500 times your bet! This incentive is triggered when you land two to five scatter symbols.
The maximum jackpot in Rawhide is $437,520 and the maximum RTP is 96.03%.
Similar games
Rawhide can be likened to some of the other Konami offerings from a graphics, features and gameplay perspective. If you enjoyed the Rawhide experience, you may also connect with these.
Rocky Slots: Rocky Slots are based on the popular film franchise fronted by Sylvester Stallone. Its boxing-themed visuals also ignite a sense of nostalgia, much like Rawhide's Western-themed graphics.
Action Staked Sevens: A firm favorite among slot game enthusiasts, Action Staked Sevens has incentives that continue to attract players. One example of this is the chance to win exciting prizes, which is similar to the Rawhide incentives.
Secret of the Mermaid: Much like Rawhide, Secret of the Mermaid offers 5 reels and 30 paylines. This slot also has free spins as part of its bonus features.
Enjoy some of the best titles from our online casino
If there's one thing that Borgata is renowned for, it's hosting some of the best online casino games around. Boasting a wide range of popular casino games to play online, you're bound to find something that you'll enjoy. These include online casino table games and slots. 
Whatever resonates with you, from live dealer casino games to innovative and modern takes on timeless classics that have stood the test of time, find it all when you sign up at Borgata Online.