There are many casino games out there, but if the thought of rubbing a magic lamp, being visited by a genie, and making some wishes sounds like your kind of game, be sure to start spinning the reels with Enchanted Lamp! With wilds, a bonus symbol, and a free spins bonus round, there's a lot to look forward to. Read our review below to find out more.
Game overview
Step onto your magic carpet, hold onto your turban, and discover a whole new way of winning big at an online casino with Enchanted Lamp!
This game has a different format to some of the other jackpot slots you might be used to playing, with 4×6 reels and 26 paylines. It's considered to be a low- to medium-volatility game and has an RTP (return to player) value of 96.07%, which is pretty decent indeed.
No matter who your favorite character in Aladdin is, you're sure to be enthralled with all of the game's different symbols, which include the legendary Aladdin himself, Jasmine, and of course, the blue genie suitably adorned with bracelets, a well-manicured goatee, and ponytail.
The max win in this online slot is 500x your stake, and there are many opportunities to win with the genie wilds, bonus symbols, and the Enchanted Lamp scatter symbol. To keep you going, there's an upbeat Middle Eastern soundtrack in the background that'll make you feel like you're right in the midst of Aladdin's bustling welcome parade (as Prince Ali).
How to play
The first step when playing online casino games is to place your bets. Once you've decided on the coin value you'd like to begin with, you can start to play the online slot. Just click the circular arrow button to get spinning, and good luck!
Graphics
Online slot machines always have a distinct theme, and in this one, we're taken right into the mythical and enchanting city of Agrabah, with a clear blue desert sky in the background. The bonus round, however, takes place in what looks like the legendary Cave of Wonders, full to the brim with gold coins and other shiny treasures.
The main symbols on the reels are Aladdin, Jasmine, the genie, and the lamp. Other less valuable symbols include a turban, scimitar, brooch, and bracelet. The only symbol you might not see every round is the bonus symbol, which only appears on the first reel.
Some online slot games keep it simple when it comes to graphics, but here we have a pleasing variety of symbols that match the theme and remind us of the famous story. This includes an animated lamp at the top of the reels, which you can try and rub for luck!
Features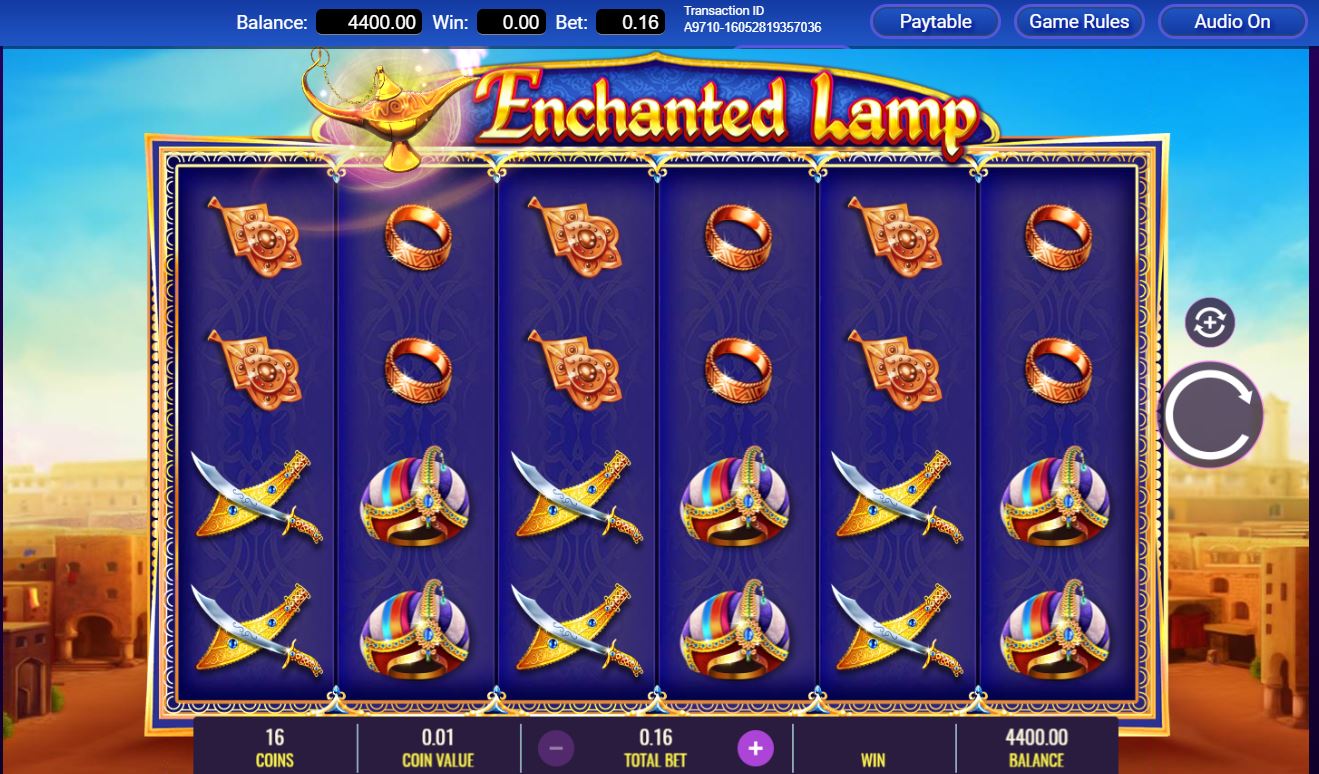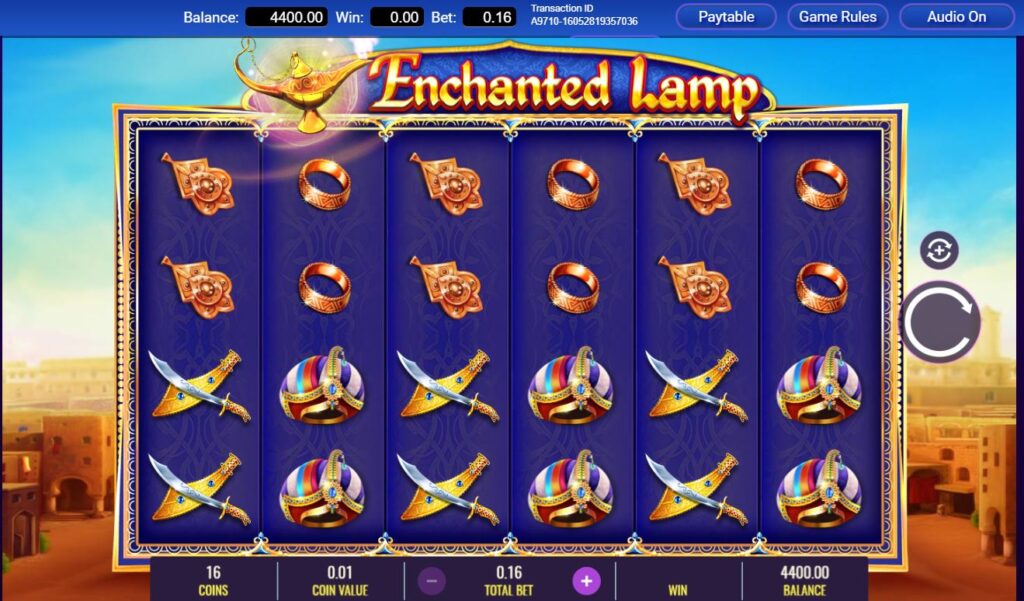 All online slots have to have exciting features, and Enchanted Lamp does not disappoint!
The Enchanted Lamp is the key bonus symbol here, and when it reveals the symbol it's landed on, it turns all of the other exact same symbols into wilds. This means you can get a whole lot of matches with other symbols on the reels when this happens, as the wild substitutes for any symbol (except the scatter and bonus).
What's even better is that more than one lamp can appear on the reels at the same time!
Bonuses and jackpots
To unlock the free spins feature in this online casino slots game, all you need to do is get a bonus symbol on the first reel and an Enchanted Lamp anywhere else on the reels.
Once you do, you'll be taken to the Cave of Wonders for a bonus round, where you'll get 10 free spins. This is the chance to really max out your chances of winning, as an Enchanted Lamp symbol is guaranteed to come up on the reel where the symbol showed up in the base game round that triggered the bonus feature.
Similar games
If you enjoyed getting to make your wishes with the golden lamp and the blue genie, we're sure you'll enjoy playing these other casino slots too:
Join us at Borgata Online for the best casino games
If you're looking to play the best online slots, you've come to the right place! Borgata Online has a whole list of exciting slot games to play, as well as a range of live casino games.
If you're up for a bit of roulette, blackjack, poker or baccarat, you can also try your hand at these table card games once you've had a spin on our slot machines.
Sign up and start playing!