It cannot be denied that there has been growing popularity of online slots in recent years. With developers such as Big Time Gaming constantly making exciting changes and updates to some of the best online casino games, it's no wonder that the likes of Diamond Fruits remain top of mind among players. While the fruit slot concept has truly stood the test of time and proven to be a timeless classic, players will also appreciate how it has evolved. 
The online casino experience has given players easier access to some of the best online slots. So, if you're particularly interested in fruit-themed online slot machines, you'll likely be drawn to what Diamond Fruits offers. From attention-grabbing graphics to new and innovative features, this particular game is a mix of traditional and modern elements.
Looking to play slots online but aren't quite sure if Diamond Fruits is the one for you? Here's a quick review to guide your decision-making.
Game overview
Released in December 2021, the minimum bet for this game is $0.20, making it quite accessible. The maximum bet is $0.75, and with the volatility rating ranging from medium to high, there's the potential to win big. The average RTP (return to player) has been recorded as 96.23%, and it offers a 6,650x maximum payout.
Diamond Fruits boasts aesthetically pleasing visuals and relatively subtle sounds to enhance gameplay. Players can expect to see fruits and diamonds flying across the screen from all angles! While some might find this engaging and exciting, others might argue that it can be distracting and potentially confusing. Nonetheless, there's a certain thrill and buzz about it that seems to have won players over.
How to play
Diamond Fruits is an engaging game that requires you to be on the ball. Throughout the action, fruit symbols are introduced and you have to form clusters on the grid to be awarded. When you successfully form a cluster, the winning symbols disappear and new ones appear for you to try your luck again.
Additional features and incentives are offered to improve your chances and increase your winnings. Examples of these include free spins, multipliers and Wild Cannons.
Graphics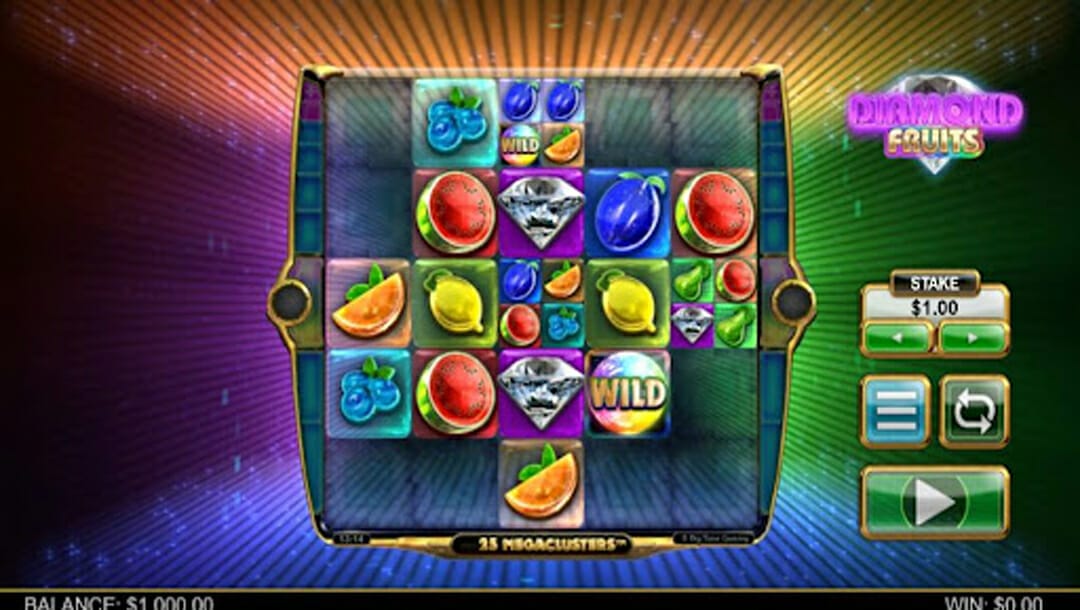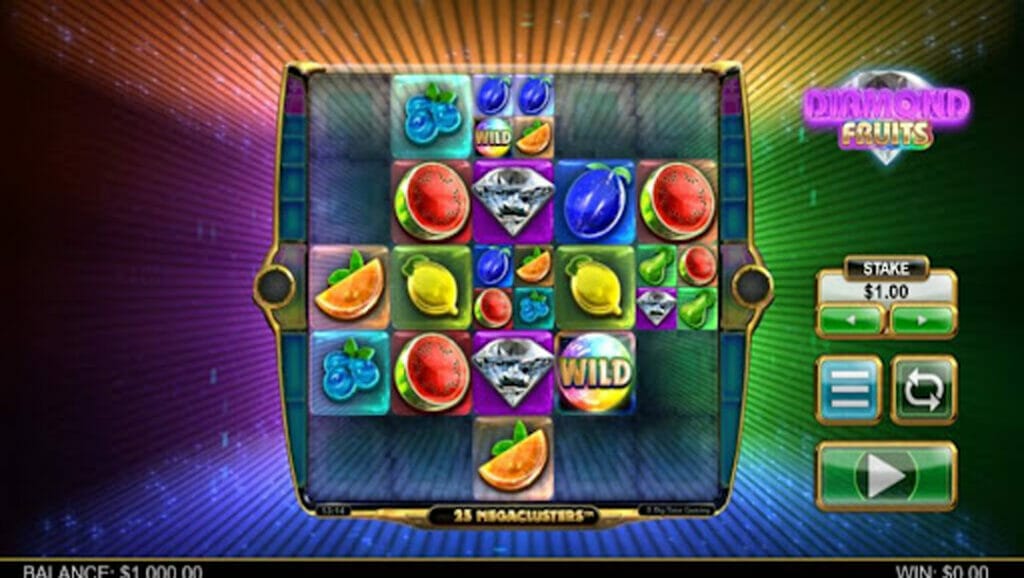 Diamond Fruits is a feast for the eyes and ears, which is what players have come to expect from Big Time Gaming. When you play casino games, it is generally an experience that engages more than one of the five senses. This is the case with online gambling slots such as Diamond Fruits.
Although it's a concept that has proven to be successful time and time again, Big Time Gaming has upped the ante through the use of vibrant and attractive fruit visuals. Players should expect to see pears, watermelons, plums, oranges, lemons, grapes as well as diamonds popping up on the screen. It's safe to say that the game's graphics are bright and colorful, and truly live up to its title.
Features
Players have quite a bit to look forward to and work towards when it comes to features and incentives. As a starting point, there is a 5×5 game area. Clusters of five or more matching symbols mean that you get a reward. The game comprises regular and split symbols to improve your chances. The Four-way Reactions feature kicks in when you successfully form a cluster, removing the winning symbols and ushering in new ones.
The Wild Cannon feature is triggered when a player gets three or more reactions. Thereafter, Wilds can be combined with regular symbols. Players also stand to gain free spins. Seven consecutive reactions result in eight free spins. An extra spin will subsequently be awarded after the first seven.
Bonuses and jackpots
Diamond Fruits does not count as a bonus or jackpot game, however you stand to win a prize of up to 6,650x your stake. The above-mentioned free spins, wilds and multipliers that are introduced for winning clusters are among the main drawcards of this fun slot. They are just some of the incentives that keep players returning to this title.
Similar games
Gaming enthusiasts who enjoy Diamond Fruits may also enjoy Big Time Gaming's earlier releases, Star Clusters and Cyberslot.
Star Clusters
Also said to have a medium to high volatility, Star Clusters is touted as one of BTG's most innovative games. Much like Diamond Fruits, the visuals are vibrant and engaging; however, this time they comprise various gemstones.
Cyberslot
Cyberslot is one of this game developer's highly volatile titles. This is a drawcard for many thrill-seekers who are looking to win big: high risk, but potentially high rewards too. Visually, it's as appealing as Diamond Fruits, offering brightly colored gems. Additionally, special features such as the Roaming Wild multiplier and the Rainbow Roaming Wild symbol increase a player's chances of landing wins.
Play the best online slots at Borgata Online
At Borgata Online, you can choose from a wide variety of online slots. In addition to our fantastic range of titles, you can also play incredible casino table games such as online poker and blackjack. Register with us and play all of your favorite casino games.