For some jovial festive cheer and a live casino feel, you can start spinning the reels on the charming 3-reel Christmas online slot game any time of year. Brought to you by Everi, Christmas uses simple mechanics while simultaneously delivering out-of-this-world gaming. Let's find out what this online casino game has to offer, including what to expect from its graphics, features, bonuses, and jackpots.
Game overview
As the name suggests, this festive-themed online slot is the perfect slot to play if you're in the mood for some Christmas cheer. This online casino slot has a single payline, but it has the potential to deliver great wins. So go ahead and unlock some epic wins while enjoying Christmas.
How to play
It's incredibly easy to play this online slot. Simply press the play button on the right-hand side of the screen, and the reels will start spinning. To set the betting denomination, hit the icon with three horizontal lines on it. You'll be taken to a different screen that enables you to choose the bet denomination and the bet multiplier. The paytable is also located on this screen when you click the lucky number 7 icon. Once you're happy with the gameplay settings, you can start spinning the reels to potentially land winning combinations. The minimum bet is 0.25 and reaches a maximum of 75.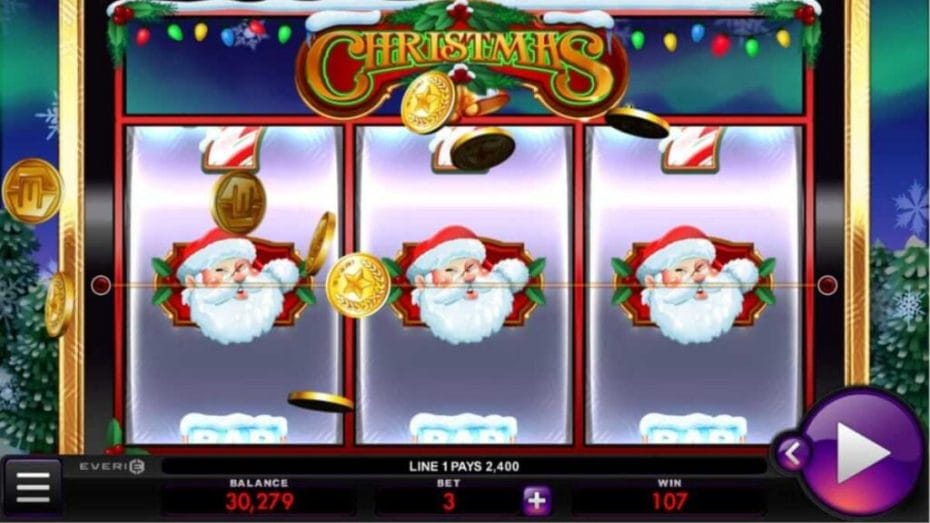 Graphics
Christmas's graphics include the classic symbols, such as the BAR and lucky number 7, but with an icy, North Pole twist. There are single-, double-, and triple-BAR symbols to look out for. The Santa Claus symbol is the game's wild, and it can help you land some nice wins. In the background, the Northern Lights dazzle your eyes, along with snowflakes and a Christmas tree. Above the reels, you'll see mistletoe and colorful lights, which all add to the festive aesthetic. The bell sounds go off every time you press the spin button, and change depending on the symbols that land on the reels.
Features
In the slot game Christmas, you need to set a bet multiplier before you start spinning the reels. The bet multiplier can change the total value of the bet massively as well as influence your total payout. For example, if you land 3 Santa Claus symbols, and use a 1x, 2x, or 3x bet multiplier, you will receive 500x, 1,000x, or 2,400x your bet, respectively.
Due to the game's single payline, Christmas has high volatility. The Santa Claus symbol is the real attraction in this online slot game, as it can deliver big wins.
Bonuses and jackpots
In many ways, Christmas is a pretty simple game and does not have bonuses (well, except for the respin, if you consider that a bonus). If you land 3 Santa Claus symbols on each of the 5 respins, you can unlock the great jackpot of up to 12,000 credits. 
As mentioned above, Christmas is quite a simple jackpot slot, but it offers fun gameplay and great rewards.
Similar games
For the best range of online slots, you're sure to find what you are looking for here at Borgata Online. We have everything from classic casino games to modern 3D online slots.
Take a look at some of our fun games:
For more festive, icy, and Christmas-themed casino slot games, you can enjoy the following:
Play the best online slots at Borgata Online
Get access to the best online slot machines and table games when you register at Borgata Online. You can play slots online plus a wide range of blackjack, poker, and live-dealer games whenever and wherever. Download our casino games app and play scintillating casino games on the go!