If you've ever imagined a world without humans where bees reign supreme and spend their days collecting gold coins, Bee Hive Bonanza brings that vision to life. As expected from some of the most industrious insects around, this colorful and captivating slot is full of activity. Other insects also form part of this ecosystem, bringing multipliers and winning opportunities with them whenever they appear on the grid.
Developed by gaming giant NetEnt, Bee Hive Bonanza is optimized for both desktop and mobile devices. This makes it widely accessible to those who enjoy themed online casino games and want to play on the go or from the comfort of their own home.
Casino Game Overview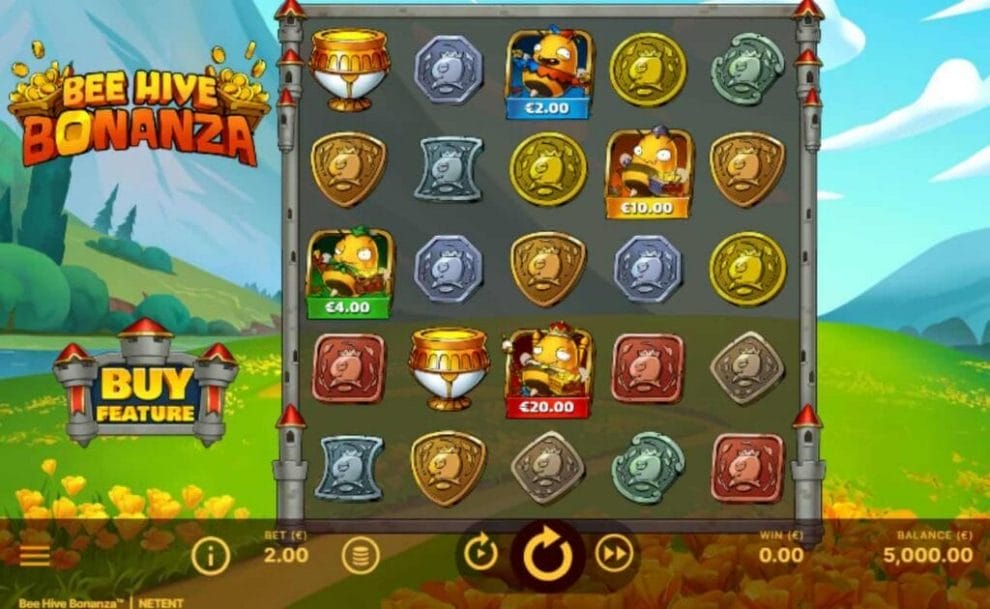 Played on a 5×5 grid, Bee Hive Bonanza has 6 paylines and a return to player (RTP) of 96.09%. This high-volatility casino game is best for people with a relatively high-risk appetite and enough patience to stick it out and wait for the less frequent but considerably big payouts. The minimum and maximum bets are $0.10 and $200, respectively.
The winning potential of Bee Hive Bonanza is enough to keep you glued to the hive of on-screen activity in the hopes of winning big. If you understand the psychology of slots, then you may already know that intermittent reinforcement and the winning potential are among the reasons why patrons keep coming back time and time again.
How To Play
Avid online slots and jackpot slots players will have no problem navigating Bee Hive Bonanza, as the playing mechanism remains relatively similar across most online slot machines. To get started, all you have to do is set your wager and press the play button at the bottom of the screen to set the reels in motion. Other function buttons, including the settings and volume buttons, appear alongside the play button.
Graphics
Although premised on a world of bees, this slot is set in a medieval era, as evidenced by the inclusion of classic castles. Visually, it's a feast for sore eyes, with its vibrant use of color and captivating visuals. Hues of yellow, green, and gold form the basis of this slot, with other colors introduced through the symbols that appear on the screen throughout gameplay. These include the bees (which are front and center in this slot), golden coins, and beehives – to name just a few.
Features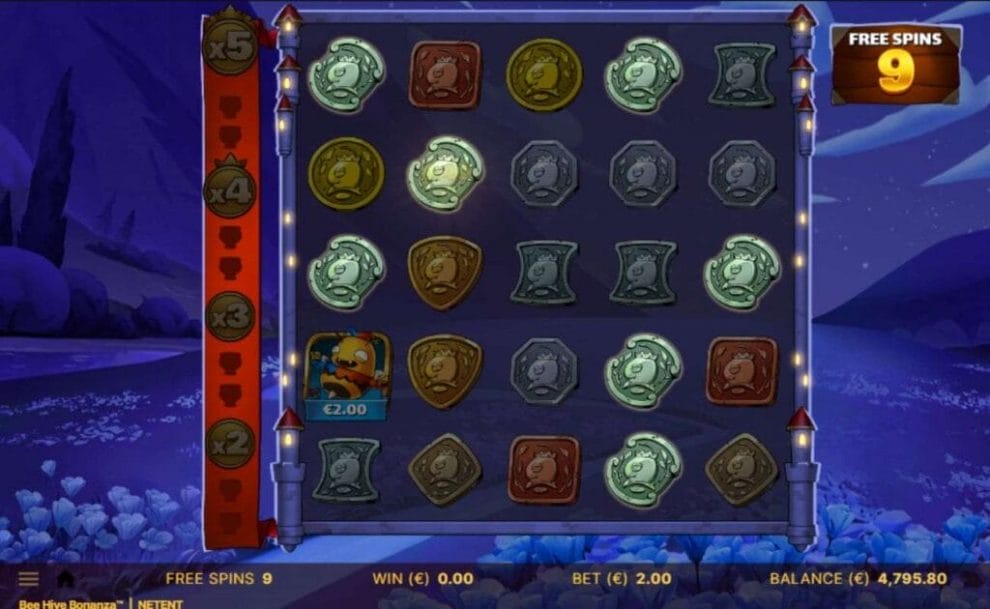 Features keep gameplay exciting and give you a chance to increase your winnings – Bee Hive Bonanza doesn't cut corners in that regard. Various insects fly past and appear on the reels, bringing with them a variety of incentives, such as multipliers and free spins. The scatter symbol is triggered by landing six or more of the same symbols and unlocks free spins. Getting three, six, nine, or 12 scatter symbols rewards you with 2x, 3x, 4x, and 5x your wager, respectively.
This game also has money bee symbols (beehive, multiplier beehive, and adder beehive), which have a multiplier effect.
Bonuses and Jackpots
Despite not having a progressive slot jackpot, Bee Hive Bonanza can see you walking away with up to 5,000x your initial wager. You also have the option of immediately buying free spins through the bonus buy feature at a cost. Paying 100x your bet can see you unlocking 10, 15, or 30 free spins.
Similar Games
Bustling activity around the clock signifies a world of bees, and if Bee Hive Bonanza is a game that resonates with you, so will the slots below.
Honey Rush (Play'N Go)
Played on a unique, honeycomb-shaped reel, Honey Rush is visually immersive from the onset. Played on 7 reels with 7 paylines, this is a high-volatility slot, much like Bee Hive Bonanza. The cluster pays in this slot mean that payouts are awarded for landing winning combinations in the form of five of the same symbol. The minimum and maximum bets are $0.20 and $100, respectively, allowing for players with a relatively conservative bankroll as well as high-stakes players to get in on all the slots action. The RTP is 96.50%.
Queen Bee (Gameplay Interactive)
Set in a magnificent garden, Queen Bee is a medium-volatility slot that's played on a 5×3 grid and has 9 paylines. Although its graphics and elements are relatively simple, Queen Bee is visually captivating and has colorful flowers and insects that bring the world to life. There are a few slots bonus features that you can look forward to, such as the wild fairy and honeypot scatter.
Discover Other Casino Online Betting Options at Borgata Online
With much more than just online slots to offer, Borgata Online is your one-stop destination for a world of exciting gaming. Take your pick from popular live dealer casino games, casino table games, and the best multiplayer slots. As a champion of responsible gambling, Borgata Online is a trusted and reputable gambling platform with years of experience in the industry to offer you the ultimate peace of mind. If you're ready to start spinning the wheels to success and put your skills to the test, register to gain access to top-rated casino games and discover the convenience of choosing to play casino online.