If you're looking to get a different kind of thrill from online casino games, then you should explore what real online slots can offer you. This is especially true if you've mastered some of the firm favorite casino games and need a new challenge. If that's the case, why not tap into your inner child with AbraCatDabra?
If the name caught your attention and you want to find out more about this riveting slot machine, you've come to the right place. Discover some of the key features and graphics of AbraCatDabra in this detailed game review.
Game overview
As you can already tell by the title, AbraCatDabra is a magic-filled online slot game. Marking one of the newest releases from Gold Coin Studios under Microgaming's platform, it's sure to captivate you if you're looking to immerse yourself in a world of spells, potions and fairy tales. AbraCatDabra is centered around a magician cat and wizard rat who transport you to a mystical era sure to spark childlike excitement.
How to play
The premise of slot machines doesn't change, even if you choose to play slots online. That may be one of the reasons for the growing interest in the ever-increasing list of games to enjoy at an online casino. However, should you get stuck, there's a help page on the top left corner so you can navigate and familiarize yourself with the AbraCatDabra interface.
The great news is that AbraCatDabra has an autoplay option if you want added convenience and minimal intervention. To make the most of the autoplay option, you must set the parameters and decide how you want to play so that all the processes are automated according to how you want the game to work.
AbraCatDabra is played on 5×3 reels with 20 paylines. It offers you the chance to win up to 5,000x your bet, with an RTP (return to player) of 96%. The variance in AbraCatDabra is relatively high, which can make for an exciting and captivating game since the payouts, although infrequent, are fairly large. The minimum bet is 0.2 credits and the maximum is 50.
Graphics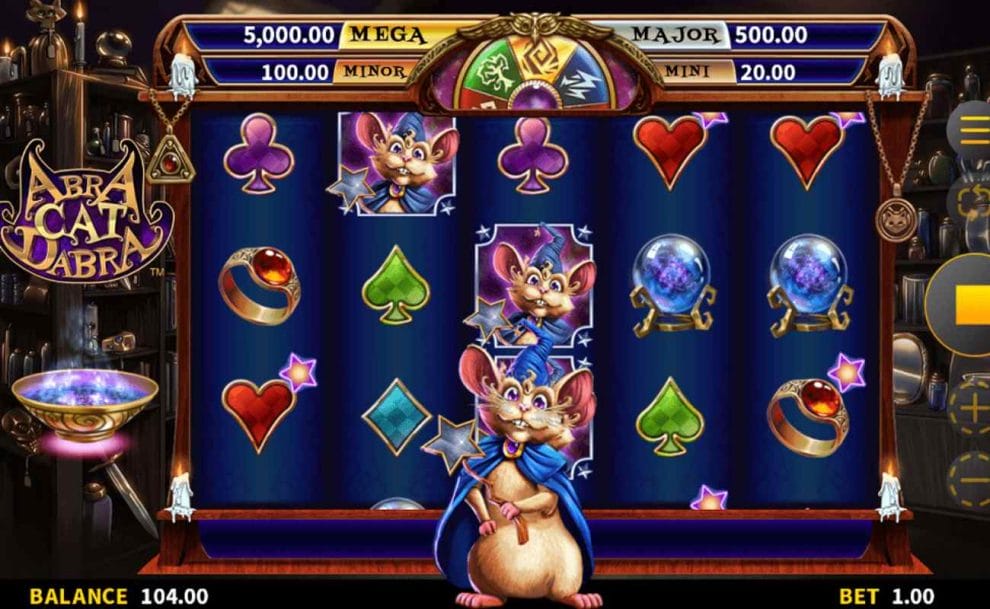 Visually, AbraCatDabra welcomes you into an alchemy lab of spells, potions and animal wizards. It's a perfect representation of the basis of the game, with creepy figures also being incorporated into the visuals to provide a more realistic feel. The use of 3D technology makes it a very detailed and animated online slot.
AbraCatDabra also has fitting audio to match the premise of the game, although there have been some glitches in the sound reported. However, this shouldn't take away from how the sounds help to enhance the overall experience when playing the game.
If you're used to timeless casino table games then you'll appreciate how the visuals and audio come together to provide thrilling gameplay and transport you into an entirely different world. This one is sure to get all your childlike senses excited. 
Features
AbraCatDabra's features are as follows: bonus wheel, bonus game, pick objects, free spins, multiplier, random multiplier, random wilds/additional wilds, respins, scatter symbols, symbol swaps, symbols collection and wilds.
Bonuses and jackpots
What's an online slot without a few bonuses and incentives throughout gameplay, right? AbraCatDabra is no different.
Pick Bonus
AbraCatDabra offers free bonus games which are triggered at random. During gameplay, you can collect star symbols and stack them up to eventually trigger the Pick Bonus reward. The stars unlock cash prizes and additional lives in the game.
Golden Pick Round
Here, you have to pick three matching symbols that offer one of four jackpots: Mini, minor, major and mega. Thereafter, you can go back to the silver round. The Golden Pick Round ends when your life hearts are finished.
Free spins
Free spins are triggered by the gold segment on the reel, which could also lead to a respin and give you more chances of winning in the game.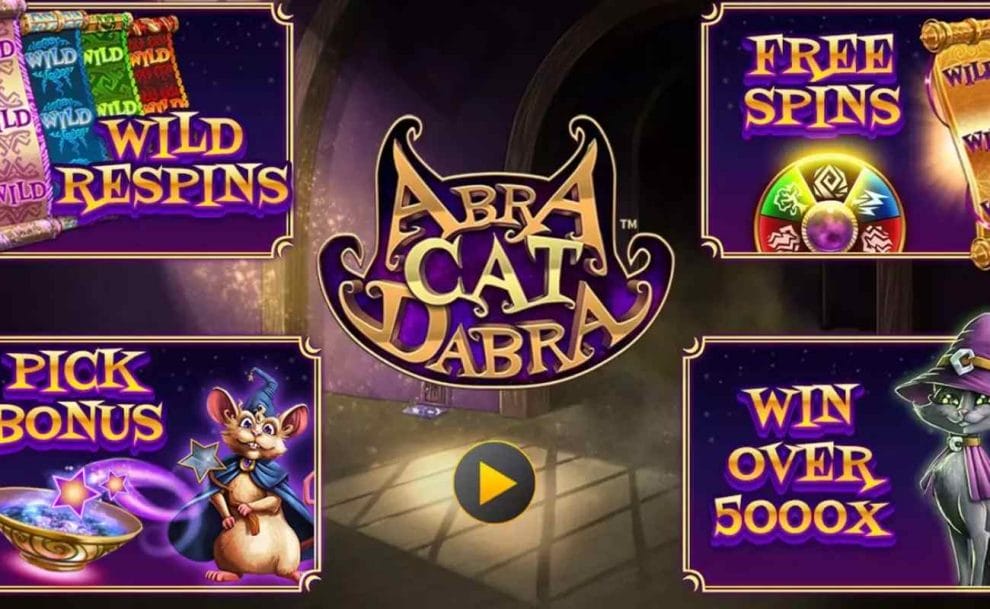 Similar games
If you're interested in other games similar to AbraCatDabra, consider the following titles.
Crystal Ball
If fantasy and mystical casino games and jackpot slots are your thing, then you may enjoy Crystal Ball. Apart from both Crystal Ball and AbraCatDabra being magic-themed, they both have an RTP of 96%. However, while AbraCatDabra has a high variance, Crystal Ball is somewhat on the safer side as it has a medium variance. This makes it the preferred option for more conservative players with a lower risk appetite. 
Beriched
Just like AbraCatDabra, Beriched offers 20 paylines. Although played on 5×4 reels, it's also an online slot game that welcomes you into a world of wizards and witches.
Monster Blox
Marking yet another wizard-centered slot game, Monster Blox is played on 6×4 reels and offers 40 paylines. However, the paylines can be increased to up to 100 by expanding the grid, giving you more chances of winning.
Explore a world of online slots at Borgata Online
When it comes to the best online slots, you're sure to find them at Borgata Online. We've got everything from magic-filled online slots to an assortment of popular live dealer casino games. There's a bit of everything for everyone; find out which is the most suitable for you when you sign up at Borgata Online.