Travel through the galaxy at warp speed with Playtech's Galactic Streak slot, one of the most remarkable online casino games you'll ever encounter. Buckle up, because you're in for an interplanetary ride packed with free spins, fixed wilds and locked-in prize multipliers that just don't quit. Prepare to leave planetary orbit and set off for the stars as you read our review!
Game overview
What stands out about the space-themed Galactic Streak slot at first glance is the square 4×4 grid. It's a format you don't see all that much in the world of online gambling slots, and comes with 16 positions instead of the usual 15. Appearing on that grid, against a galactic background filled with twinkling stars, are eight multicolored planet symbols. Unlike regular online slots, though, these celestial bodies won't spin into position. Instead, they zoom towards you, which really adds to the effect of being in outer space. Land 3 or 4 planets on a payline to receive a prize multiplier that varies according to color type: Red and purple (10x, 50x,) blue and cyan (4x, 20x,) orange and pink (5x 25x,) and green and gray (2x, 10x.)
Joining the planets is the wild symbol, represented by a blazing sun. The wild has the highest multipliers (25x, 125x,) and when it lands it stays fixed on the grid, where it substitutes for all planet symbols and increases your potential winning combinations. A scatter symbol in the form of a galaxy completes the set.
How to play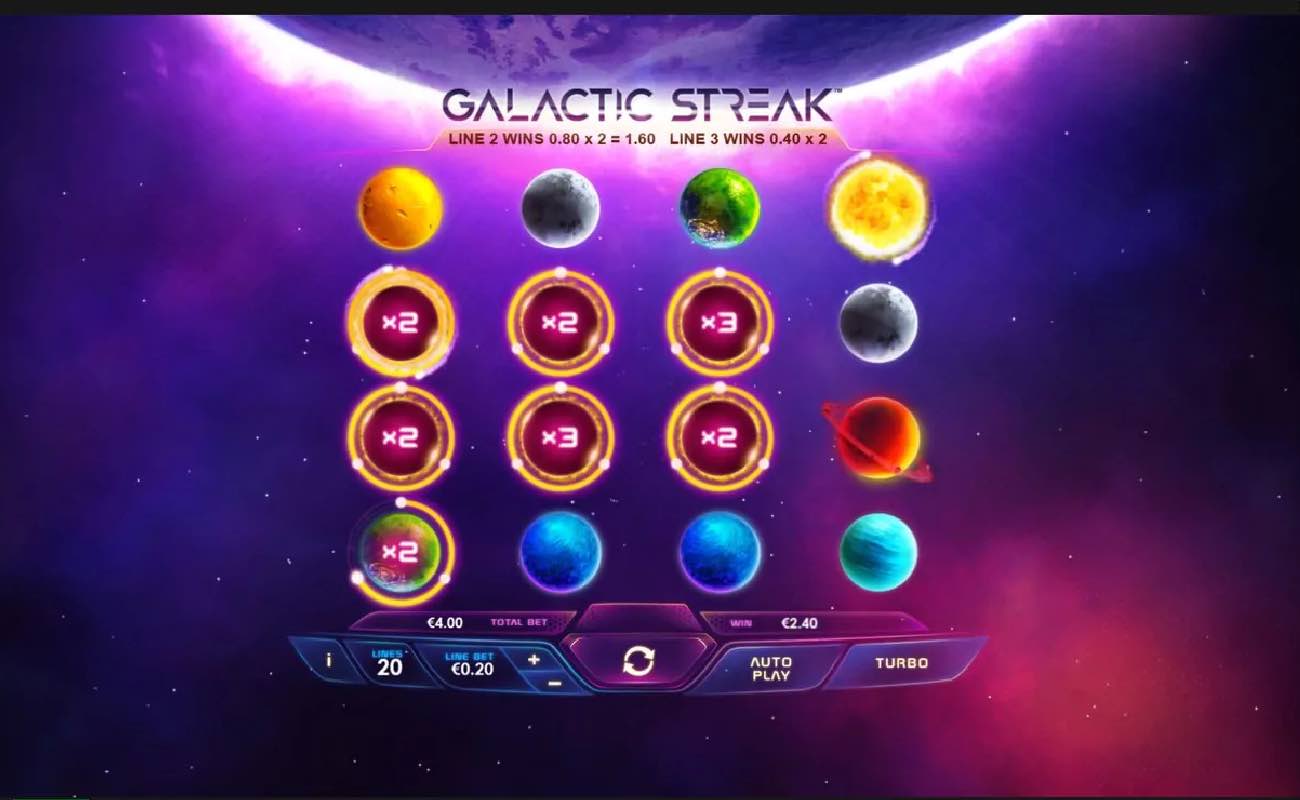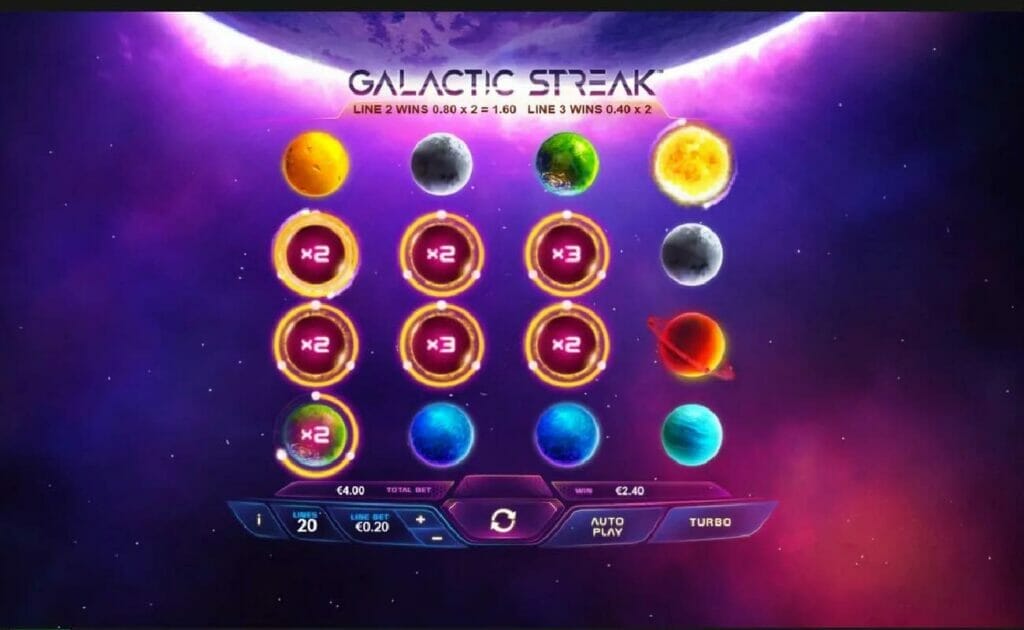 The Galactic Streak slot comes with 20 fixed paylines, so first you'll need to choose how to stake them. You can bet from 0.01 to 2 coins per line, for total bets of 0.20 to 40 coins per spin. Whether you like to play casino games for high or low stakes, this slot will accommodate your budget. Be sure to check out the paytable to see what payouts you can get for what combinations.
Two more options that can personalize your gaming experience are the Turbo feature, which speeds up the rate of spins, and the Autoplay function. You can set it to run from 10 to 99 spins, then sit back and enjoy the view as your spaceship streaks through the galaxy! Galactic Streak has an RTP of 95.95%, and it's a low-volatility slot, which typically means more frequent prizes with lower payouts. It's ideal if you like to play slots online primarily for the entertainment value.
Graphics and soundtrack
The overall design of the Galactic Streak slot is a perfect match for the theme of intergalactic travel. It's easy to imagine being on some futuristic spaceship as the stars flash past and the multicolored planet symbols float towards you. The tranquil yet vibrant space music soundtrack is of exceptionally high quality, showing that Playtech spares no effort when it comes to crafting the very best online slots it possibly can.
Features
The main event of the Galactic Streak slot is the Orbit feature, which triggers every time you form a winning combination. All winning positions lock in place for 3 spins and the multiplier increases by up to 10x. If there are two multipliers on a win, they're added together. Two galaxy scatter symbols will also raise the value of the multipliers.
There's also a Galactic Free Games feature, which rewards you with 10 free spins. It's triggered when 3 or more galaxy symbols land anywhere on the grid. If you already have win multipliers when you land a 3rd scatter, they're carried through to free spins and locked in place throughout the feature. The Orbit feature continues to function throughout free spins.
Bonuses and jackpots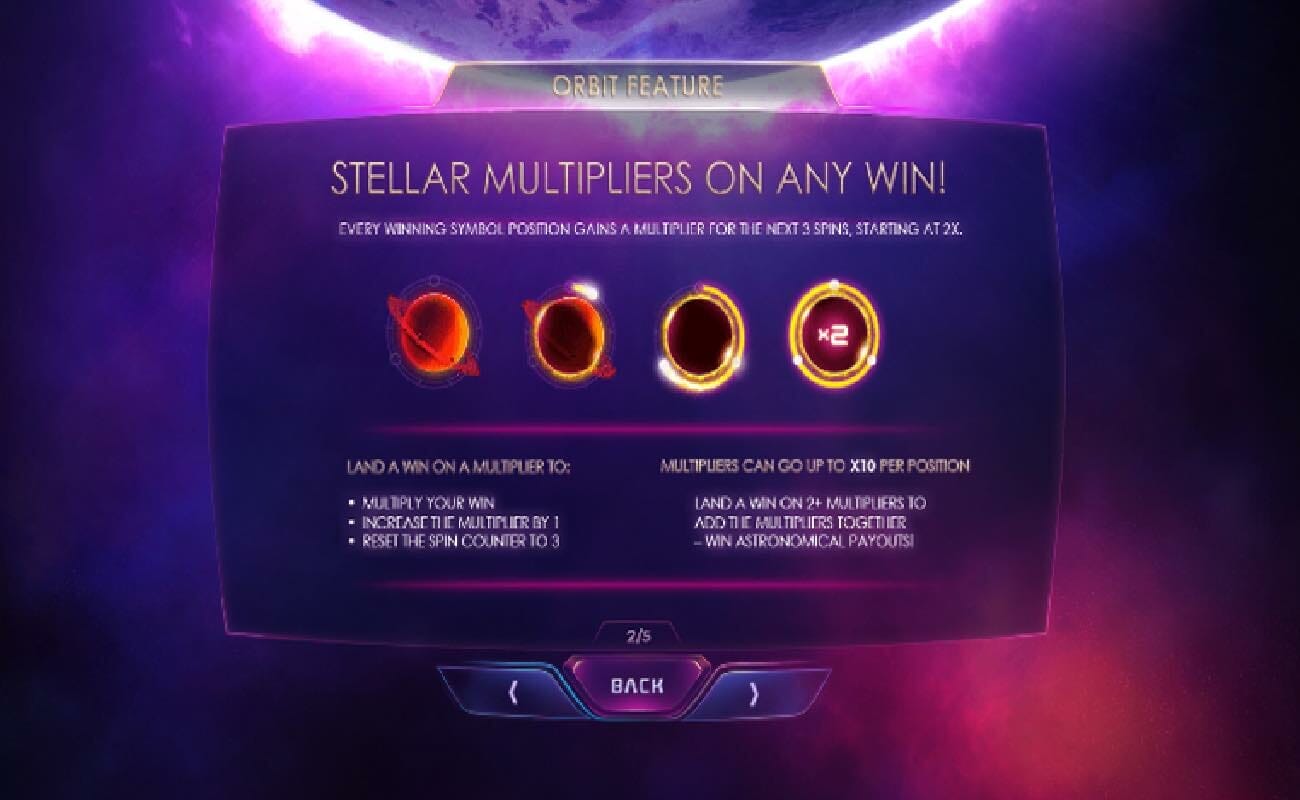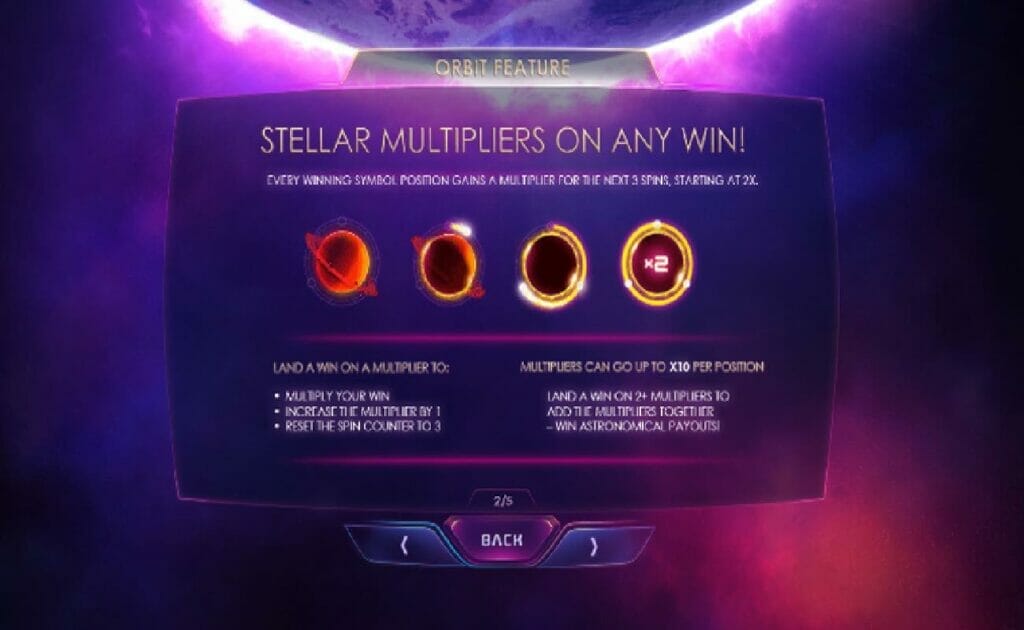 If you're looking to play jackpot slots, then Galactic Streak probably isn't the best option, because it doesn't come with a progressive jackpot. What it does come with, though, is plenty of opportunities to win based on how the game is structured. With a maximum bet of $40 for a single round – that's $2 on each individual payline – you can potentially win up to $500 (although it's really important that you set a budget limit for your gaming before you start, so that you don't bet more than you can afford to lose.) Once you reach the free spins stage, the multipliers can reach as much as 10x. This makes for a potential maximum win of $5,000 per line, for a generous total of $100,000.
Similar games
If interplanetary space travel with chances to win real money sounds like the kind of entertainment you can enjoy, why not hop on board one of these other great space-themed online gambling slots:
Starburst – NetEnt's breakthrough game, still one of the most popular slot machine games online.
Starburst Slingo – Pushing the interstellar envelope even further beyond… into the Slingo galaxy!
Galacticos – A sci-fi feast of stars, planets, spaceships and aliens.
Reach for the stars at Borgata Online
To book your ticket for interstellar adventure, simply sign up with us at Borgata Online. Explore the outer limits of your imagination with our broad range of themed online slots! You might also like to try our incredible live online casino. Our titles' live dealer technology transforms classic casino table games such as poker, blackjack and roulette into a futuristic experience. Come and have some fun at Borgata Online!