Blackjack is a classic casino table game that offers simple gameplay and one of the most favorable house edges in the casino. And thanks to top developers like Evolution Gaming, more and more original online variations are making the game more enjoyable and rewarding to play. One of these fun blackjack variants is Free Bet Blackjack. Keep reading to learn more about the game and its features and bonuses. 
Game overview
Evolution's Free Bet Blackjack is a live dealer casino game with an incredible return to player (RTP) and some added features. It's an expanded version of Evolution's beloved Infinite Blackjack with a few rule changes and the added benefit of free wagers.
Evolution Gaming is known for creating the highest quality live table games and the best online slots under the NetEnt division. This game definitely won't disappoint its followers and those who are still learning how to play casino games. The stream quality in Free Bet Blackjack is excellent and the dealers are professional and friendly. But even more importantly, the game has an RTP of 98.45%, making it definitely worth a play. The game has an insurance bet and as many as four side bets. Let's show you how to play Free Bet Blackjack.
How to play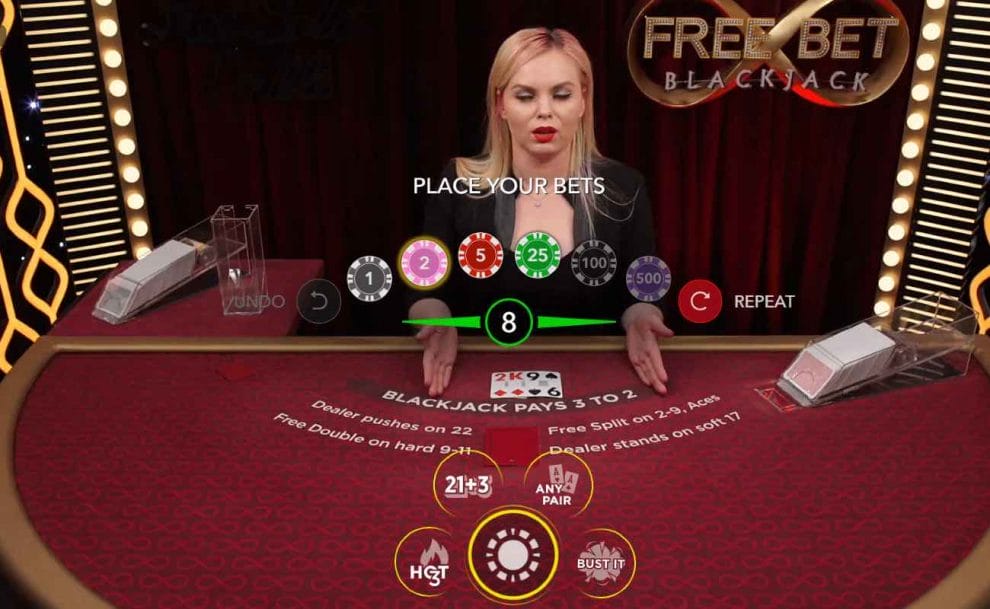 Unlike other table games you play in casinos online, you don't have to wait for a seat when you choose Free Bet Blackjack. Any number of players are always welcome to join the table at any time. The gameplay is easy to figure out, especially if you've played other Evolution titles.
First, you'll choose a coin value between $1 and $1,000 and place it on the board. This is also when you'll decide if you're wagering all your money on the main bet or wagering some on a side bet. Once you're done with your stakes, the dealer will begin drawing cards.
You'll be given two cards and told what other players have picked. The dealer will get two cards, with one face-up. The dealer will then check their hand for blackjack and offer you an insurance bet. If not, you'll have the option to hit, stand, double or split.
One of the attractive features of Free Bet is that the game lets you double or split for free without paying extra. At the end of the round, the dealer will reveal their cards and compare them to yours to see if you've won.
New rules in Free Bet Blackjack
Free bet is very similar to standard blackjack. But let's take a look at what might be different in the game to help you navigate it.
Firstly, in Free Bet, if the initial two cards have a value of 9, 10, or 11, you can double down for free. Players can also use the Free Split option for any pairs except for 10, jack, queen and king. Finally, if the dealer busts on 22, all winning hands are pushed and all bets are returned to players.
The rest of the rules are the same for blackjack and other Evolution blackjack games. Insurance pays two to one. All pairs can be split, but aces will only become a single card. The dealer stands both hard and soft on 17.
Graphics
The graphics in Free Bet Blackjack are a delight, and we don't expect anything less from Evolution. Straying from their usual design, the Free Bet Blackjack table is a luxurious dark red in an elegant and stylish studio. And you're the star of the show, too. Other tables aren't visible in the background.
The dealers are what make the game so special. These well-trained and professional men and women are polite and engaging as they talk with players. They keep the game lively and entertaining without losing focus as they deal cards.
The game's interface is equally sleek and elegant. We like how the dealers don't just place the cards face up. Instead, they slide them into a pocket where they vanish and reappear on the user's screen. And even though the streaming internet speed requirements might seem like a drag, they help to ensure the stream quality is as incredible and smooth as it is.
Features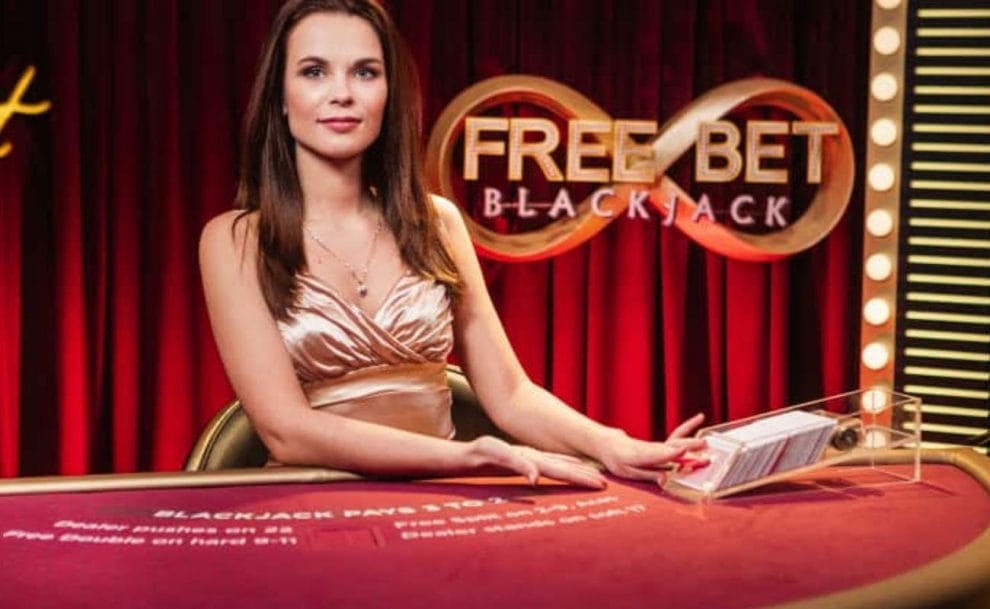 One of the bonuses in the game is already implied by its title – free bets. These free bets are doubles and splits. But the game's other exciting extra feature comes in the form of not just one but four side bets. These are the four side bets that you can use when playing this online casino game.
Any Pair: This bet pays 25:1 when your first two cards are a pair.
21+3: Form a three-card poker hand with your first two cards and the dealer's face-up card. If you form suited triples, you could win 100 times your stake.
Hot 3: You'll win this bet if your first two cards and the dealer's face-up card add up to 19, 20 or 21. If it's three 7s, the bet pays 100:1.
Bust It: You win this bet if you make the dealer bust with three or more cards. If you get the dealer to bust with eight cards, you'll win 250x your stake.
If you've played blackjack before, you're probably familiar with these bets. If you're completely inexperienced, take some time to learn more about the game and essential blackjack terminology.
Bonuses and jackpots
While many players love a jackpot slot, Free Bet Blackjack is not such a game. Even though it lacks a jackpot, the side bets offer jackpot-worthy prizes. The 21+3 and Hot 3 side bets can win you up to 100 times your stake. And the most enviable prize of all is winning up to 250 times your bet in the Bust It side bet. 
Similar games
If you love this game, here are a few more Evolution titles you'll enjoy playing at Borgata Online.
Baccarat Live: A live baccarat game with a 98.8% RTP
Infinite Blackjack: One of Evolution's most popular live games with an RTP of 99.51%.
Lightning Roulette: An award-winning live roulette game. The game is a visual treat with an RTP of 97.3%
Together with NetEnt, Evolution has created some of the most popular online slots. Some popular NetEnt and Evolution titles include Gonzo's Quest, Starburst and the Viking video slot. Play these slots online at the Borgata Online casino. 
Join the blackjack revolution at Borgata Online
Thanks to our licensing partnership with Evolution Gaming, Borgata Online has one of the biggest catalogs of blackjack and live table games. It's time you joined an authentic casino experience with professional live dealers and real money games. Create an account to play Free Bet Blackjack and many other casino games from top developers in the industry.