Do you feel the jungle call out to you with the roar of a mighty gorilla? If you do (or just enjoy online casino slots set in tropical rainforests), then get ready to play the Congo King slot online! Find out more about this game, and whether it brings out the animal in you.
Game overview
Congo King is a 5-reel, 100-payline slot with an RTP (return to player) of 94.39%. This modern game sees the player venture deep into the tropical jungle in search of wealth and riches, but beware: the jungle is mysterious and filled with danger and wonder alike! This is one of many real online slots developed by game technology company Ainsworth, whose popular titles include Pac-Man Wild and Pan Chang.
How to play
Congo King doesn't break the mold in terms of gameplay but does venture away from the completely traditional slot experience by letting you place bets on paylines. To get into the action, you first need to decide the number of paylines you want to bet on. You can choose three settings: the minimum number of paylines you can bet on is 25, the middle value is 50, and the maximum is 100. The more paylines you bet on, the more expensive your bet is, but the greater your chance of winning! Once you've decided on the number of paylines using the lines button, all you have to do to start playing the game is click spin!
Your wins are decided by the combination of symbols, which are a mix of jungle-themed icons and regular Ace, King, Queen, Jack, 10, and 9 playing-card symbols. As with other online slots, landing between three and five symbols on the reels will produce bigger wins!
Graphics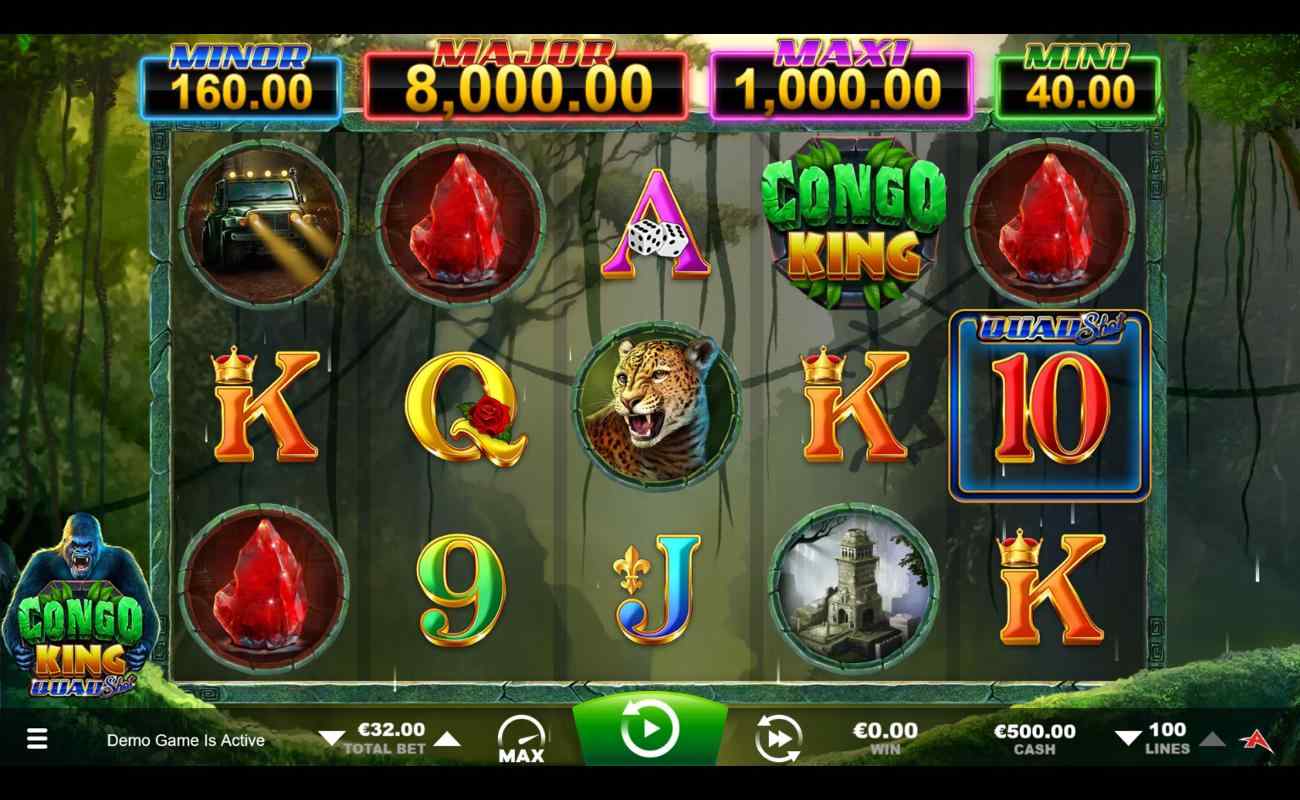 There aren't many games that make you sit back and go "wow," but Congo King is definitely one of them. The semi-transparent set of reels is covered with highly detailed, beautifully illustrated slot symbols, including a stunning red-headed adventurer, an angry jaguar, and a mystical red gem. The action on the reels is set against a tropical rainforest shrouded in mist, with rain gently falling from the sky. Every once in a while, a monkey will swing across the background, bringing more life to this already well-animated game.
Before you click "spin", you can clearly see the game menu, as well as your wager costs, wins, cash, and payline bet on the game bar at the bottom of the screen.
Features
Congo King has many of the standard features that you'd find in an online slot game, including the wild and scatter, as well as the win multiplier and free spins. The wild symbol is the gorilla, with the scatter being the game's logo.
Bonuses and jackpots
If you're lucky enough to land three or more scatters during a game, you'll receive 15 free spins. These spins feature their own bonus reel and multipliers to help you boost your wins. If you're really lucky, you might manage to trigger the game's maximum 2,000x multiplier. Thankfully, winning big isn't all you have to look forward to – you also stand a chance to win one of four jackpots. These are the Mini, Minor, Maxi, and Major rewards that are part of the Quad Shot Bonus. They're worth 40, 160, 1,000, and 8,000 credits, respectively. These jackpots are triggered as follows:
Mini – Trigger a 5-of-a-kind Royal symbol win (that's five As, Ks, Qs, Js, 10s, or 9s), with a minimum of one substitute (wild) and a Quad Shot Bonus symbol.

Minor – Trigger a 5-of-a-kind symbol win (that's the regular game symbols such as the beautiful adventurer, jaguar, and gem), with a minimum of one substitute and a Quad Shot Bonus symbol.

Maxi – Trigger a 5-of-a-kind Royal symbol win with no substitutes and a Quad Shot Bonus symbol.

Major – Trigger 5-of-a-kind game symbols with no substitutes and a Quad Shot Bonus symbol.
Overall, Congo King is a thrilling slot to play and a great way to bring the jungle into your gameplay experience!
Similar games
If this type of jungle adventure gets you wild and excited, be sure to check out these casino slot games:
Meet with the Congo King at Borgata Online
If you're ready to journey into the luscious tropical rainforest and encounter the Congo King, be sure to check out Borgata Online. We have dozens of other online slot machines across various themes and genres, including Ancient Egypt, Irish Luck, and much more for you to enjoy!
And if you'd like to take a break from spinning the reels of the best online slots, you can also explore many other exciting casino games on our site, including live dealer, table games, virtual sports, and more.
To play these slots online, or try your luck at any of our other casino games, register at Borgata Online.