Use your foxy wiles to line up some golden egg bonus symbols in Chicken Fox 5x Skillstar. Look out for an exciting free spins round, and even try your hand at catching some eggs in a basket in the new Skillstar online slots feature.
Game overview
A sequel to the popular Chicken Fox online casino slot game, this version has a slightly more jazzed-up barn background, with shiny jewels instead of eggs lying on straw in the chicken hatches. Enjoy the upbeat banjo soundtrack as you spin the reels to match various farmyard symbols, and look out for the Free Spins round when you land golden eggs!
Chicken Fox 5x Skillstar has an RTP (return to player) of 95.61% and was developed by Lightning Box, which creates a variety of online slot machines. It's a 5×3 reel game and has 25 paylines. Although most of the features remain quite similar to the original game, one of the main changes is that the max-win potential is now 18,950 times your original stake!
How to play
As with almost all casino slot games, the aim is to line up matching symbols on the paylines and get some wins. Different combinations give you a certain number of points, and wild and scatter symbols add some excitement to the gameplay.
Once you've deposited your online slot credits, choose your bet level by using the up and down symbols on the bottom of the screen. After this, you should be all set to press spin and start to play slots online.
Graphics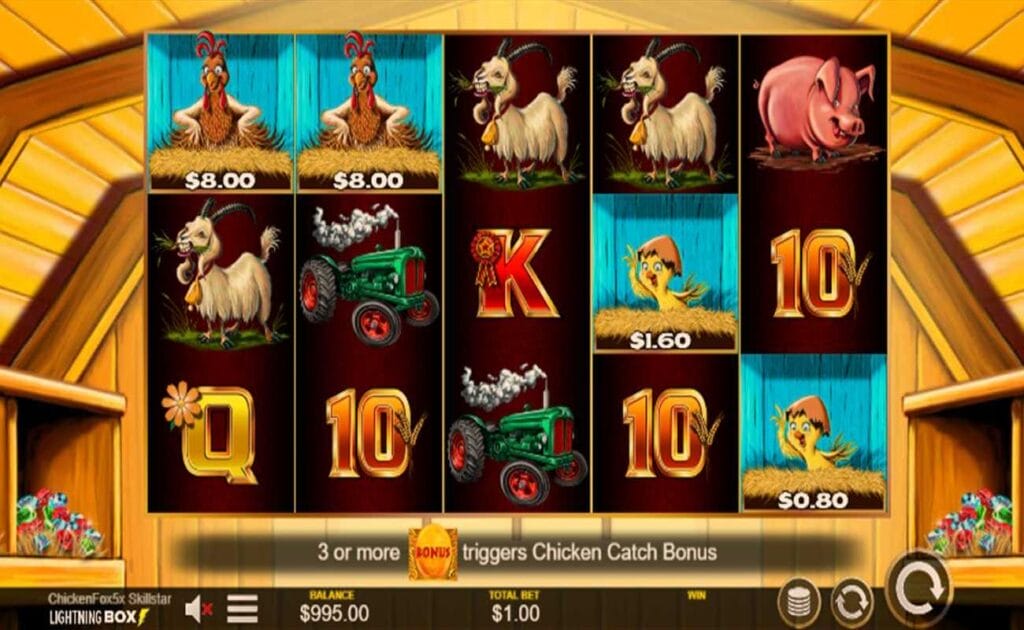 As we mentioned before, the game's background is inside a cozy-looking barn, which is full of shiny gems
On the reels, you'll see the usual A-10 royal playing cards, which are the lowest-paying symbols, as well as some farmyard favorites. These include cartoon-like chickens, goats, pigs, and tractors, which are all premium symbols. 
The wild symbol is a kind and friendly-looking lady who is holding a deliciously fresh homemade pie. This symbol substitutes for all the others on the reels and is the most valuable among the premium casino slot symbols. 
Features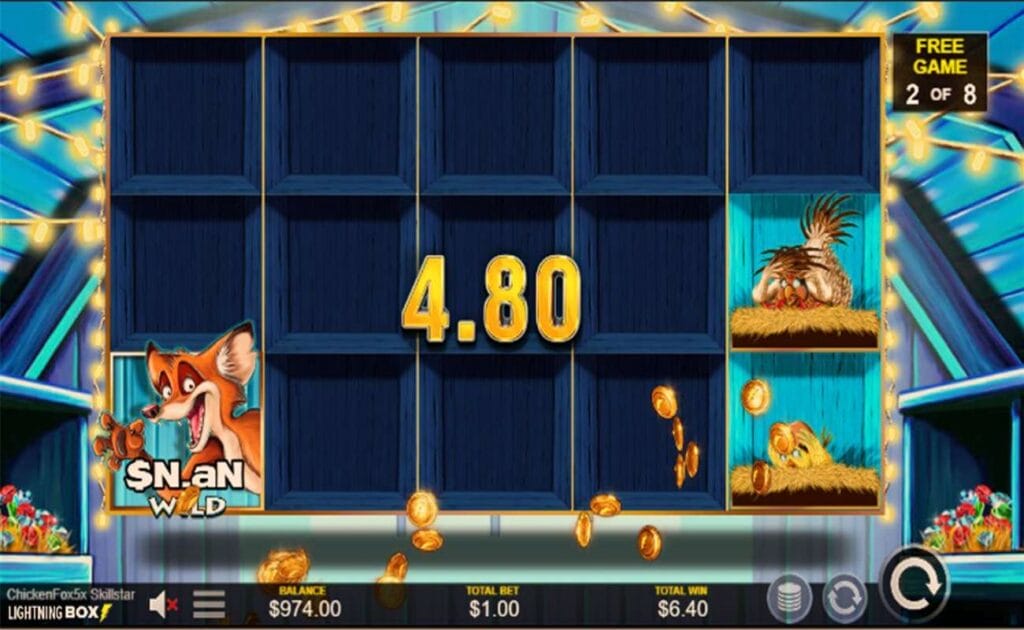 This game's main feature is the Free Spins round, which is triggered when you land 3, 4, or 5 of the golden egg scatter symbols on the reels, which will give you 8, 15, and 30 spins, respectively. 
Once you enter the bonus screen, the only symbols that will land on the reels are chickens, foxes, and eggs. An exciting part of this round is the "fox 5x" multiplier symbol, which could help you win big. The chickens also have a random cash value attached to them – up to 32x your bet!
You'll also be able to land some extra free spins with different symbol combinations. A single fox will give you one or five additional spins, and a fox landing alongside an egg symbol will give you between one and five more spins. The 5x fox symbol landing with an egg also throws in an extra 5, 10, 15, or 25 spins respectively. Note that foxes can also act as wild symbols in this round, helping you stand a chance to win more prizes!
Bonuses and jackpots
Unfortunately, there aren't any jackpot slots features in this game, but there is the Skillstar round: it won't win you any money, but it'll give you the chance to climb the leaderboard! This game is optional, so you can skip it if you want to.
If you do feel up for extra farmyard fun, this Skillstar round will come through just before the Free Spins round (once that has been triggered). Playing the part of the fox, all you need to do to win points is to catch the falling eggs with a basket and stop them from breaking on the floor. You'll need some quick wits about you for this!
To start with, you get three lives, but you'll lose one life with every egg that "doesn't make it"! As we mentioned, this isn't going to win you any money, and won't affect any of the base-game mechanics, but it might be an entertaining way to test your skills and get a bit competitive with other players who enjoy these kinds of online slot games.
Overall, Chicken Fox 5X Skillstar is a bag of fun to play, with some hilarious animated sequences and the chance for interesting gameplay throughout.
Similar games
If you had fun trying to catch fallen eggs or you're a fan of animal-themed games, you might also like to play online slots, including these:
Play all kinds of real online slots at Borgata Online
Spin the reels and play all of the best online slots and other live casino games when you sign up at Borgata Online. 
We also offer a range of deposit bonus options for US players only, which can add some extras to your gameplay!