There are approximately 100 million online poker players worldwide and according to statistics from the World Poker Tour, which is responsible for operating many of the world's biggest tournaments, 60% of people who play poker online are from the US.
There's no doubt that online poker is popular – but did you know there are many different ways to enjoy this enthralling game of strategy? For example, you could play video poker, take part in online cash games, a live dealer game or even participate in a poker tournament. At the moment, cashless poker games are also extremely trendy at casinos. 
Many intermediate and advanced players choose a combination of the above, but it's true that they often have a preference or engage in one form of poker more than others.
Read on for a closer look at poker cash games and tournaments to help you decide which variant is the best fit for you.
What are poker cash games?
Most players just starting out with poker will begin by playing 'friendly' (or free) games with friends and relatives. They often move on to playing cash poker games online once they have a feel for the rules, understand the different poker hands and have started creating their own poker strategy.
As the name suggests, cash poker games revolve around playing poker for money and you'll usually have a choice between low, medium and high buy-ins to suit your budget. Of course, it makes sense to start playing cash poker games at the low buy-in tables to ensure you don't lose too much money while getting the hang of this new format.
Note that you'll be exchanging cash for poker chips when joining a cash poker game and each table will typically have a minimum and maximum buy-in.
Buy in at any time
There's no specific time at which a cash poker game starts. You can buy in and join a table at any point, allowing you to play poker based on your schedule and how much free time you have available.
Leave at any time
One of the perks of cash poker games is that you can decide when you want to leave the game. There is no set amount of time you have to spend at the table, so if you happen to win a decent-sized pot and are keen to call it a day, you can opt out immediately and claim your winnings. The same goes for when you find yourself on an unforgiving losing streak and want to avoid chasing your losses.
The flexibility to leave at any time is beneficial for those poker players who choose to set a time limit or a bankroll for themselves when taking part in online games.
Continue playing even when your chips run out
So, you have what you believe to be a great hand and are ready to go all-in? If you can afford to, based on your bankroll, feel free to take the plunge. After all, when playing an online poker cash game you can buy in again even if you lose all your chips.
Blinds stay the same
More conservative players will find relief in knowing that blinds stay the same for each hand when playing cash poker games. This can make it easier to stick to your bankroll.
Player pools are varied
You'll likely encounter a good mix of poker players of all levels, including beginners, intermediate players and experienced gamblers.
What are poker tournaments?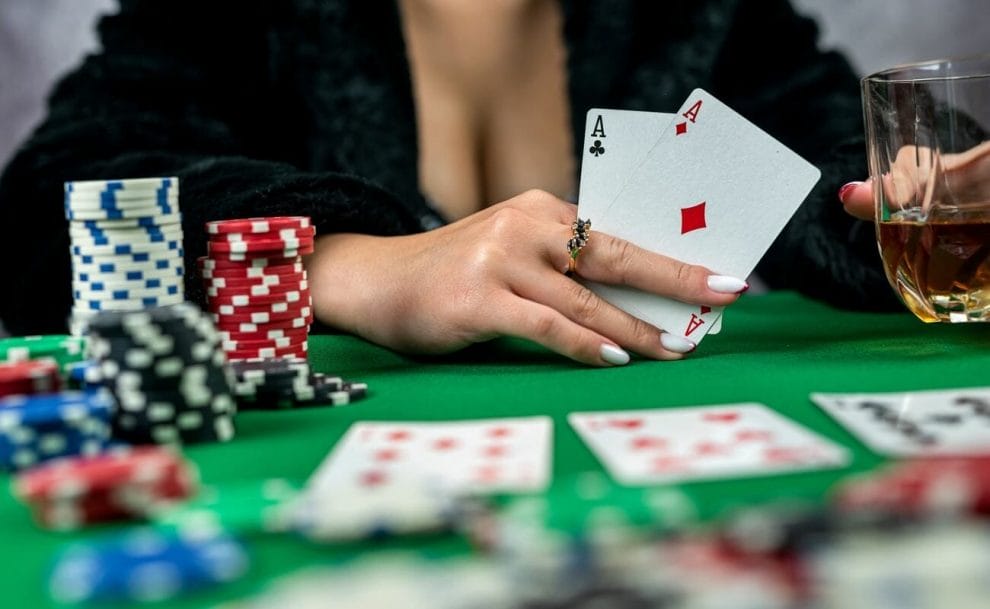 A poker tournament offers a whole new level of excitement. The stakes are higher, the pressure's on and you're likely playing against experienced opponents – a real bonus if you're a competitive player!
Essentially, poker tournaments involve many separate poker games, with the goal of gradually knocking players out. The final table consists of players who've eliminated their opponents and intend to go head-to-head to win the ultimate prize.
Some tournaments only pay out to the winner while others pay out to the top three. In some cases, all players who make it to the final table receive a certain percentage of the pot. Always read the fine print before signing up to participate in a tournament.
One table or multiple tables
The tournament can be played on a single table or hundreds of tables, depending on its size.
Specified buy-in
Unlike cash poker games, tournaments all have a specific buy-in amount that applies to all prospective players and each player gets the same amount of chips. The more prestigious the tournament, the higher the amount is likely to be.
You can only leave when you're knocked out
Unfortunately, it's not possible to exchange your chips for cash when playing in a tournament even if you're having a bad run. You'll have to wait until you're knocked out (which means you leave with nothing) or you win, following which, you'll receive a payout.
The blinds increase
Most tournaments involve an escalating blind cost. In most instances, the cost of blinds increases every 15 – 25 minutes.
You're usually up against the pros
Anyone can participate in a poker tournament if they can afford the buy-in. That being said, most beginner players won't risk losing such a significant amount of money. As such, you can expect to play against experienced gamblers, which can be quite a thrill and also gives you the chance to improve your strategy by taking note of how the experts approach each hand.
Play poker online at Borgata
Now that you know the pros and cons of cash games vs tournament poker, you'll need a reputable platform on which to play! Look no further than Borgata. We specialize in online poker, including poker tournaments, cash poker games, live dealer games and more. We also offer various online slots and other classic casino table games such as baccarat and blackjack.Go ahead and register when you're ready to join in on the fun.