Carnival Cow is not like other online slots you've seen before. The bonus features and jackpots of this game are ingenious. But don't be fooled by the name – it's not set in your traditional American carnival or fair. Instead, it's strongly influenced by East Asian culture. Moreover, instead of the usual dragon or tiger, a cow takes center stage as the star of the slot. 
Are you intrigued? Then you'll just have to keep reading to learn more about this fascinating online slot from Light & Wonder.
Game overview
Carnival Cow Coin Combo is a 5-reel slot from seasoned developer, Light & Wonder. If you're wondering why you've never heard of them, it may be because they used to be called Scientific Games. Light & Wonder used to focus on creating games primarily for land-based casinos, but in the 2010s, they turned their design attention to online casino games.
Carnival Cow Coin Combo is not like your run-of-the-mill 5-reel game. The number of rows can expand during bonus rounds and award you more prizes or a jackpot. The game has a theoretical return to player (RTP) of 95.97% and 243 paylines. In addition, it offers some exhilarating bonus features to keep you spinning and winning. Let's look at how you can play Carnival Cow at a casino online.
How to play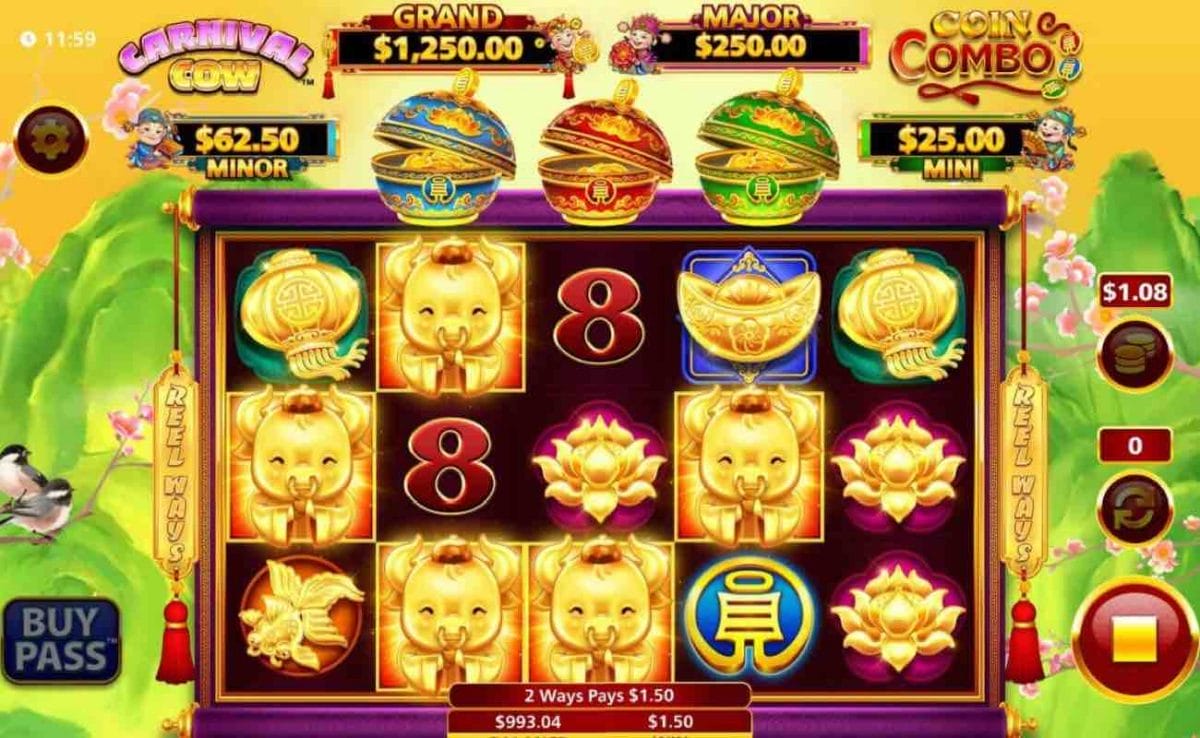 If you've wanted to play slots online for real money, this is a fantastic one to start with because it's so easy to play. Once you've gone over the rules and paytable, use the button on the right to set your wager. The minimum bet is 0.22 and the maximum is 31 coins.
With bets in place, you can spin manually using the large spin button or the game's built-in auto-spins feature. Lower paying symbols include card symbols, while the highest paying symbols are Asian cultural symbols such as the lotus flower, lanterns and other golden icons.
Don't ignore these high-paying symbols. You can win up to 60x your wager with three symbols on a line, while five gold bowls on a line can reward you with as much as 608x your wager! Carnival Cow features not just one but five special high-paying golden symbols to make things even better. Let's look at the design skills Light & Wonder employed to produce this engaging slot for casinos online.
Graphics
Even though Carnival Cow has many appealing bonus features, the graphics are just as compelling. The game has a beautifully designed traditional Asian theme with a fitting natural backdrop showing rolling green hills and colorful songbirds.
The distinctive and catchy music adds to the game's experience. Even though you have the option to mute it, we don't think you'll want to. Carnival Cow presents a fresh take on Asian-themed slots with the titular cow as the main character in addition to beautifully designed gold-embellished card symbols and Chinese icons. The team's 3-dimensional flair is evident in the traditional pots and tassels of green, red, blue and gold.
Light & Wonder has displayed their artistic talent and attention to detail with this slot. You'll notice more and more intricate details every time you play it at a casino online.
Features
Carnival Cow Coin Combo is filled with unique and complex bonus features. The game has three special symbols, a wild symbol, a coin symbol and a mystery element.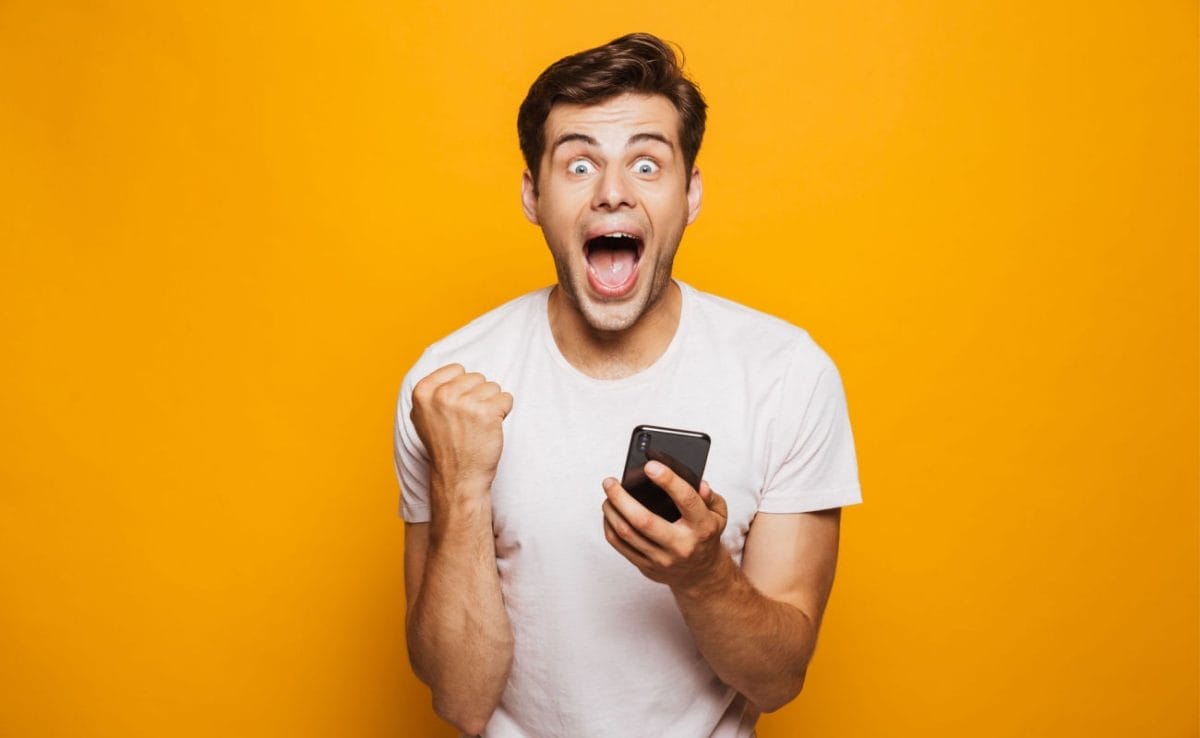 Tree wilds
The game's tree wild symbols can substitute for any of the standard symbols on the reels to increase your wins or help you trigger one of the bonus features. Three wilds can only appear on the middle reels.
Element coins
The element coins you will find on your reels come in three colors – red, blue and green. These colors correspond to the ornate pots filled with coins at the top of your reels. Landing these element coins adds them to the corresponding pots until a feature is activated. Each color pot can trigger a feature as follows:
Red pot – jackpot feature
Blue pot – mighty feature
Green pot – mega feature
A combination of these pots can also trigger even more bonus features such as the super feature, the ultra feature and the supreme feature.
Bonuses and jackpots
A jackpot is the greatest incentive for anyone who plays online slots for money. Carnival Cow has three bonus features: the jackpot feature, the red mystery envelope bonus and the three-in-one cow feature. Let's see how you can boost your earnings using these added extras.
Jackpot feature
If you trigger the jackpot feature, you'll see 15 coins on your screen to choose from. These jackpot coins have levels: mini, minor, major and grand. Some coins will also be upgraded coins.
Once you've selected your coins and picked three jackpot coins of a kind, you'll win the corresponding jackpot. If you've collected three upgrade coins, your prize will be upgraded. A mini jackpot will become a minor jackpot and so on. Winning the biggest grand jackpot with an upgrade will win you an additional prize.
Cow feature
The cow feature takes place in a separate bonus round. Like the jackpot feature, the cow features are triggered by filling up the gold pots. Here is a breakdown of the three main cow features and what players can expect in each bonus round.
Mighty: Play on a 5×3 grid with three spins and six normal coins.
Mega: Play on a 5×4 grid with three spins and eight normal coins.
Super: Play on a 5×4 playing grid with three spins and eight normal coins.
Your coins will be held until the end of the round when a prize or jackpot win is displayed. Green coins will reset your spin count and reward you with more coin prizes.
Red mystery envelope bonus
This feature awards a random prize of up to 30x your wager. You can win an envelope bonus any time you spin.
Similar games
If you love this wonderfully complex and captivating slot from Light & Wonder, here are a few more feature-rich titles from the same developer.
Marvelous Mouse Coin Combo
This 5-reel Light & Wonder slot has an RTP of 96% and 243 ways to win. It also comes with four fixed jackpots.
Medusa Megaways
This popular Light & Wonder Megaways slot has an RTP of 96.28% and a maximum win of 50,000x your stake! The game also boasts free spins and multipliers.
Jin Ji Bao Xi Endless Treasure
If you enjoyed the Chinese-inspired setting in Cow Carnival, you'll enjoy exploring this Asian-themed slot. The 5-reel game has an RTP of 95.65%, 243 paylines and five bonus features. The grand jackpot could win you 2304x your stake.
Try these impressive games from the Carnival Cow Coin Combo team or play other slots and casino table games at the Borgata Online casino. 
Enter the casino carnival with Borgata Online
Do you want to explore the fascinating world of Carnival Cow? Visit Borgata Online to play this exhilarating slot and try your luck with our bingo, sports bets and table games. To heat things up, join a table at our immersive live dealer casino games. To start playing for real rewards, just register.