Ever imagined yourself working hard in the quarry, before hitting the big time? Well, the good news is that Bonanza offers players a chance to strike it rich, without ever having to get their hands dirty. Learn more about this online slot in our review.
Game overview
Bonanza's one of many online slot machines, but it undoubtedly offers players an experience like none other. The title, from developer Big Time Gaming, employs an unusual theme, with the player "working" and attempting to strike it rich in a quarry. It offers players an RTP of 96%, 117,649 ways to win with the unique Megaways™ system, and its interesting approach to spins will likely have players coming back for more.
How to play
Bonanza offers 6 reels with symbols on them, but unlike many other games, the number of rows in each of these reels changes between 2 and 7 symbols. To win, players must match these symbols from left to right on consecutive reels.
The symbols include your standard Ace, King, Queen, Jack, 10, and 9, and also include a number of more valuable gem symbols. The game also features special symbols, including a wild (look for 3 burning sticks of dynamite), which substitutes for other symbols in the game.
In a fun twist, "carts" above reels 2 to 5 "tip" symbols into those reels. These carts can also contain gold bars, which will trigger the Free Spin Scatter. Players can also land 4 GOLD scatter symbols in a row to win 12 free spins, with every extra scatter after that adding 5 more free spins.
As with many other online slots, playing Bonanza is fairly simple. All you need to do is set your stake, decide if you want to configure the autospins, and then simply click "Spin". 
Graphics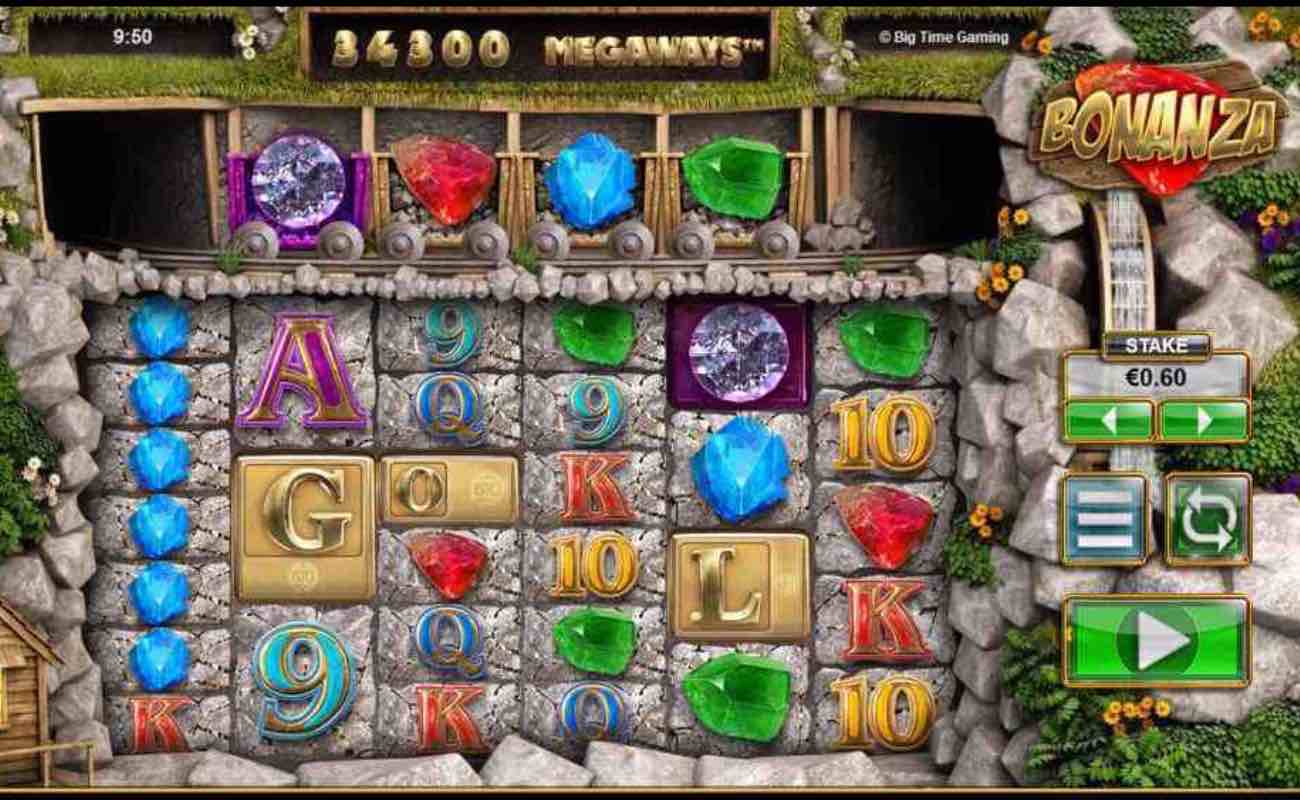 From the first time you start to play, you'll realize that Bonanza has a totally unique aesthetic. Players try their luck "working" at a quarry, which is definitely an unusual visual theme for an online slot. However, the graphics on display are pretty good, even if the color palette makes heavier use of dull greys and greens than we might like. The good thing about this color scheme is it's easy to notice the ever-important symbols against the grey stone quarry and light green plants. 
The graphics are high-resolution as well as nicely detailed, so even if it's not as bright and flashy as many other online slots, it still offers very palatable graphics.
As for the audio, the soundtrack will also make you feel like you're out in the Wild West with its quirky but exciting banjo music, exploding symbols, and crashing carts.
Features
As with other online casino slots, players are required to match certain symbols to win, but again, Bonanza offers a twist on the usual formula. If the player lands a certain number of matching symbols, these reels explode, and new ones fall into place. If these cascading reels also match with a certain number of symbols, they too will explode, allowing you to stack up multiple matching symbols and grow your multiplier. This is called a "reaction" in the game.
As we mentioned earlier, there are 2 ways to trigger free spins in Bonanza, but these free spins are slightly different. The gold bars in the cart will award you with standard free spins, which don't change the way the game plays. Manage to get the GOLD symbols in a row, though, and these free spins will start a growing multiplier that can help you grow your win into something substantial. We can't argue with that!
Bonuses and jackpots
Bonanza is fairly straightforward when it comes to bonuses and jackpots. If you like winning big, you'll want to land the game's biggest reward: you'll need to land 6 of the violet diamond symbols, which will give you 50x your bet. However, if you manage to land the right multipliers during the free spin games, that can increase to 10,000x to get the max win.
Similar games
As we mentioned before, Bonanza provides an undoubtedly unique experience and theme, and as such we think it's up there with some of the best online slots. That being said, you might also like to play these online slots:
Have a different kind of bonanza with Borgata Online
When you're ready to search through the mines in the hope of striking it rich, you can play Bonanza at Borgata Online. Borgata Online also offers a wide variety of online casino games, including the best online slots, live-dealer games, and more. 
Register with us today to play all the exciting casino games we have on offer.