Blackjack Classic Touch is a mobile casino game that will make you feel like you're sitting in front of a croupier in a live casino environment. All the same rules of blackjack apply — which means aiming to beat the dealer every time, and making sure that the cards you are dealt come as close to, but not more than, 21 points. 
Game Overview
Blackjack strategy can become quite complex, especially when you become more experienced in the game and learn to count cards. For most people though, the game really just involves learning how to place your bets effectively upfront. 
Also, once you play Blackjack online regularly, the value of the cards start to become second-nature, and you'll find yourself becoming more strategic about your choice of bets, which should always pay out at a 3:2 ratio. Basically, all you need to do is try to get 21 points, and not more, before the dealer does.
Blackjack Classic Touch takes the in-person experience of playing with a croupier to the mobile screen. In landscape mode, playing this game on mobile can almost make you feel as though you're already winning big.
This casino game, and others like it, are also appealing because they have a Return to Player (RTP) ratio of 99,59%, which is very high.
How to Play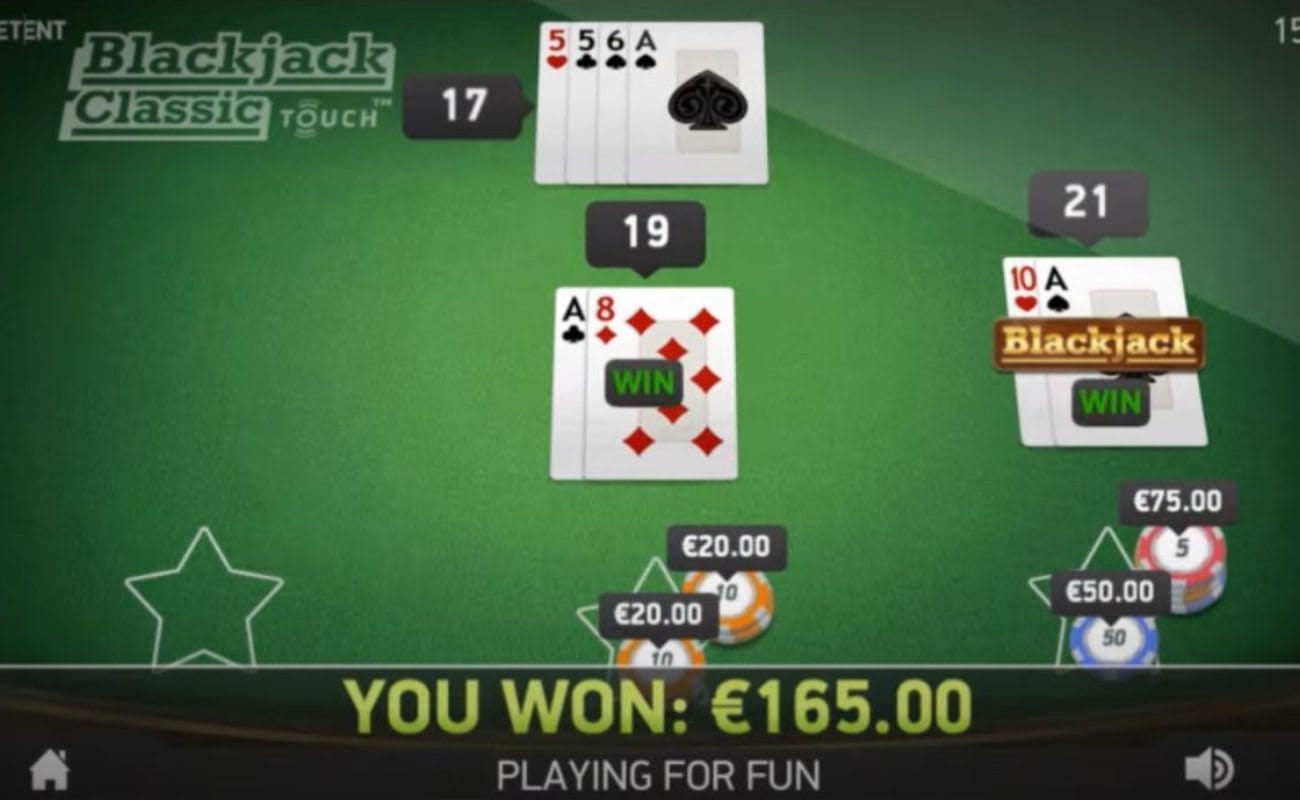 Once you've downloaded the Borgata Online app from your app store and registered for an account, you can start to play Blackjack Classic Touch. As mentioned above, the best way to play this game is to hold your mobile phone in landscape mode with both hands, to ensure that you can see the entire screen. 
The interface of the game is specially designed for easy use. All you need to do to place a bet is tap on the star outline, then select a chip with the amount that you'd like to wager. You can play up to 3 hands at a time — these are dealt from right to left using a collection of six packs of cards (which are made up of standard 52-card packs).
After each round you will either win or lose chips, which flow in and out of the bottom part of your screen. All of the features you'll be interacting with are placed within easy reach. You can also easily keep track of how much you've bet, and how much you're winning or losing on the screen.
Graphics
As with many other online casino games, this game has been designed to mimic the feel of being in a live casino. The game layout is simple, which aligns with the consistent look and feel that you would get in an in-person casino game, as your attention should really be on the cards, and not anywhere else!
Features
With so many features, and an easy-to-use interface, it's clear why so many people choose to play online casino games like Blackjack Classic Touch in the comfort of their own home.
As mentioned, some of the key features include being able to play with multiple hands, and to easily place bets with a simple tap on the screen.
Extras and Features
Some extra features in Blackjack Classic Touch include being able to make insurance bets. These are typically only made by experienced players, but they could be something to try as you start to advance and learn more about the game.
An insurance bet gives you the chance to make a max win and place a backup bet on your main hand. This can help you win even if the dealer gets blackjack. Insurance bets pay out at a 2:1 ratio but note that you will only be offered the chance for this kind of bet if the dealer's face up card is an ace.
Similar Games
If you enjoyed Blackjack Casino Touch visit Borgata Online and play our wide variety of online casino games, including:
Play casino online games at Borgata Online
Borgata Online Casino offers a wide variety of online slots and other casino games. These include live dealers, table games, variety games, and other virtual sports games. All of this entertainment is easily accessible through our casino games app, which means you can play wherever you are, even on the go. Visit Borgata Online Casino to start playing!