Spring is one of the most beautiful seasons of the year, marked by a burst of color and new life. Whether you're celebrating it by playing colorful online slot machines, (perhaps with an Irish theme, with all those rolling green hills) visiting a spring festival, or taking a scenic drive, spring offers idyllic views, a feast for the senses, and a feeling of freshness and renewal.
From poppy-filled valleys in California to cherry blossom-lined streets in Washington DC, join us as we explore the best destinations around the US to see spring flowers in all their delight.
Antelope Valley California Poppy Reserve, California
Enjoy breathtaking views of California's state flower at Antelope Valley's 1,780-acre landscape in Lancaster, just two hours north of Los Angeles. The reserve's display of vast fields and sloping hills featuring yellow, orange and crimson poppies is in full bloom from mid-March to mid-May, and can be enjoyed both from afar, or up close while walking or biking along the Antelope Loop Trail. Being in the Mojave Desert climate zone, at an elevation ranging from 2,600ft to 3,000ft, the park's climate can get quite windy, so be sure to bring along a jacket and dress in layers when visiting.
Brenham Bluebonnets, Texas
April is one of the most beautiful months in Texas thanks to the flourishing wildflower season, which sees bluebonnets, red Indian paintbrushes, maroon wine cups and pink buttercups sprinkle entire pastures. This is especially so in the small east-central town of Brenham, with pastures lining Highway 290 offering some of the most incredible views of bluebonnets in the state.
The annual Bluebonnet Festival takes place each spring in Chappell Hill, an even smaller town located between Brenham and Houston. With more than 250 arts and crafts vendors, great food and live entertainment, the festival offers close-up access to this colorful spectacle.
Other festivals to visit for bluebonnet appreciators include the Ennis Bluebonnets Festival, which takes place in Ennis, known as the "Official Bluebonnet City in Texas," just south of Dallas.
Carlsbad Flower Fields, California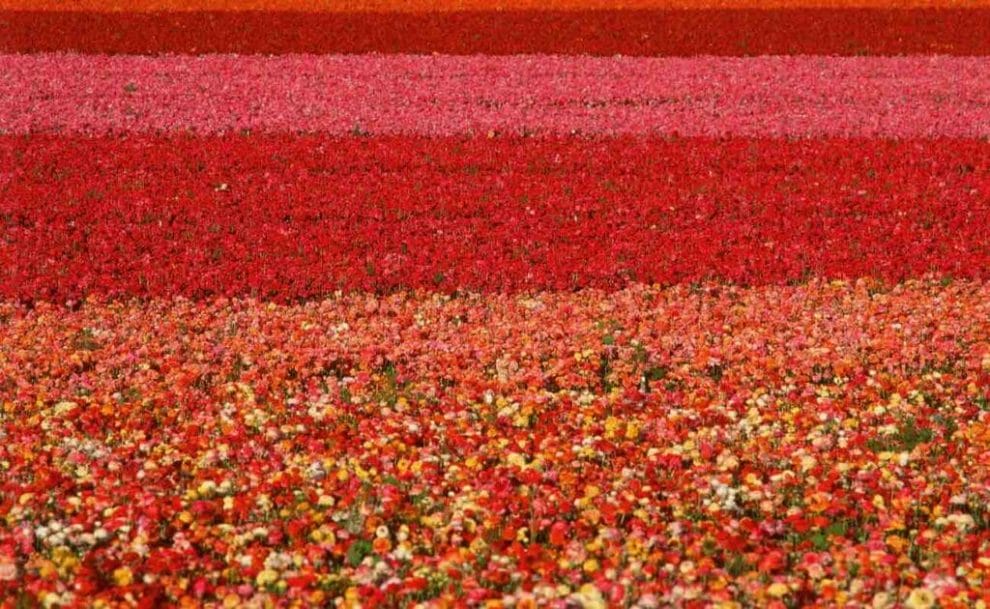 Carlsbad Ranch, also known as the Flower Fields, comprises more than 60 acres of land and includes fields of more than 13 incredible shades of Persian buttercups and other flowers, a butterfly garden and an orchid greenhouse. Tickets are $18 and grant access to the array of picturesque landscapes from mid-March to mid-April, when the flowers are in full bloom, as well as tractor rides, a rustic brewery and a host of other activities ideal for a spring afternoon. The ranch also grows coffee, five varieties of blueberries, and 18 varieties of olives, which are used in the making of olive oil. There is plenty on offer, and a day at the Carlsbad Ranch is sure to offer a number of Instagram-worthy photographs and an unforgettable experience.
Cherry Blossom Festival, New York City
Cherry Blossom season (also known as Hanami) marks the coming of longer days and warmer weather in New York. In the latter half of April, the cherry blossoms bloom and there are a number of festivals to celebrate this, including the Sakura Matsuri, held at the Brooklyn Botanic Gardens. The pink, "cotton wool"-covered trees form a canopy overhead and bring with them the freshness and excitement of the changing seasons. The festival honors the humble tree's origins in a Japanese-inspired celebration featuring taiko drumming, dancing, J-pop and martial arts displays. While the 2022 festival has been canceled, you can still visit the gardens and take in the surrounding beauty.
Dallas Blooms, Texas
Dallas Blooms is one of the longest-running annual floral events, having begun in 1984, and is the largest of its kind in the Southwest. It runs from the third week of February to the first week of April, and has been named one of the "Best Places to See Stunning Spring Blooms Across the South" by Southern Living. Each year, over a million visitors make their way to the Dallas Arboretum and Botanical Garden to take in the sensory delights of more than 500,000 tulips, as well as azaleas, cherry blossoms, daffodils, hyacinths, poppies and a variety of other types of spring flowers. With afternoon teas and picnics, florist demonstrations, film screenings, live entertainment and of course, spring bulb sales, this event is every flower lover's dream.
San Diego Japanese Friendship Garden, California
The Japanese Friendship Garden is an expression of friendship between San Diego and its sister city, Yokohama. Situated in Balboa Park, the garden was designed with a number of Japanese elements, including a Zen rock garden, bonsai trees, koi pond and bamboo plants. During spring, 150 cherry blossom trees color the 30-year-old garden with a canvas of delicate pink and a sweet scent. The garden hosts a cherry blossom week during peak bloom, which usually takes place during the last week of March, where visitors can enjoy cultural activities and Japanese delicacies, visit the Tea House or picnic beneath the flourishing trees.
St. Francois State Park, Missouri
While Missouri hosts a range of outdoor sights and activities for nature enthusiasts throughout the year, it's particularly spectacular during springtime, when wildflowers explode across the landscape. St. Francis State Park in Bonne Terre covers over 2,700 acres of woodlands, with the banks of the Big River being carpeted with bluebells, queen of the prairie, poppies and mountain mints as far as the eye can see. The best views are available to those who hike the Swimming Deer Trail, which is a 3.4-mile loop.
The Tidal Basin, Washington DC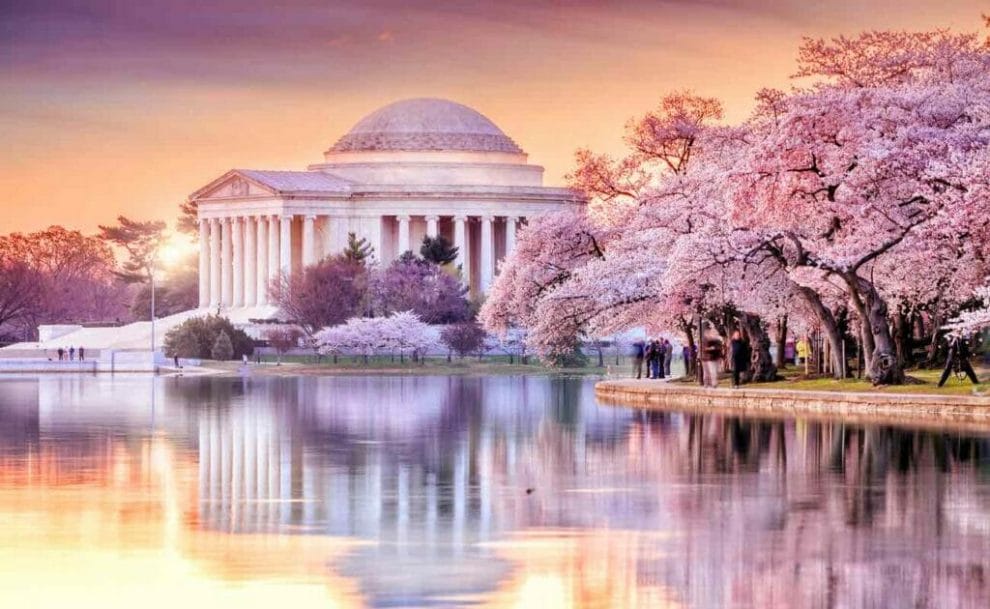 Known to be one of the best spring festivals in the world, and certainly the most popular, Washington DC's Tidal Basin puts on a vibrant display of 10 varieties of cherry trees during the spring months, with peak bloom usually taking place between April 2-5. These trees were a gift from the mayor of Tokyo in 1912, and the festival commemorates the gift each year with the National Cherry Blossom Festival, hosted in the US capital. With a parade, kites, a Pedalpalooza concert, fireworks and more, the event makes it a very special time to visit, and attracts thousands of locals and visitors each year. An early-morning trip to the Tidal Basin when the crowds are sparse and the sun is rising over the monuments blanketed in petals is a particularly stunning sight.
Visit Borgata Online, the season's best online casino
Regardless of the season, you can enjoy a variety of online casino games wherever you are with Borgata Online. Whether you're spinning slots in summer and autumn, enjoying casino table games between floral festivals in spring, or honing your live dealer casino games during winter, we offer a range of the best games all year round.
Register with Borgata Online to begin your journey of online entertainment!