A growing number of online casinos accept cryptocurrency as a conventional payment method. Crypto coins are private and secure digital currencies, making them ideal for safe and convenient fun in the virtual worlds of modern casino entertainment.
Cryptocurrencies are stored in crypto wallets that provide instant access to your funds, but some wallets are better than others for playing online casino games. The best crypto wallets for gambling will differ for every player, depending on what you play, the fees involved, and which coins are supported.
Some wallets support hundreds of currencies, but the list might not include the crypto you've purchased. Others only accept one or two tokens and nothing else, but transaction fees make it worth it if your chosen crypto is supported.
Which Wallet Is Best for Crypto?
To begin with, there are two types of crypto wallets available: hot storage wallets and cold storage wallets. Hot storage refers to wallets that use online platforms to store your information. Cold storage wallets can only be accessed directly from the devices on which they're stored. Hot storage is more convenient for accessing and managing crypto transactions, but cold storage is more secure due to restricted physical access.
So, which wallet is best for crypto? Ultimately, you need secure storage with great value for crypto gambling. The wallet you choose must suit your budget and provide peace of mind regarding the safety of your funds. Research the basics of crypto gambling to ensure that your chosen wallet provides maximum bang for your buck.
Supported Cryptocurrencies
Above all else, the main priority is to find a wallet that supports your chosen cryptocurrency. The crypto market is massive, and there are thousands of coins and stablecoins to choose from. Still, there are only a few major tokens that are supported by the majority of wallets — like Bitcoin and Litecoin, for example.
Security Features
The decentralized nature of blockchain transactions offers an unparalleled level of privacy. There's no information that can be used to identify you. That being said, when you sign up for casino games like online poker, operators will need your identification and proof of residence before you can register successfully.
Accessibility
Using your wallet must be a quick and easy process. Without a thoughtful user interface and seamless navigation, managing crypto and authorizing transactions becomes a hassle. If you select a wallet that makes your gambling experience feel tedious instead of fun, consider switching to an alternative with a better end-user experience.
The Best Crypto Wallet for Gambling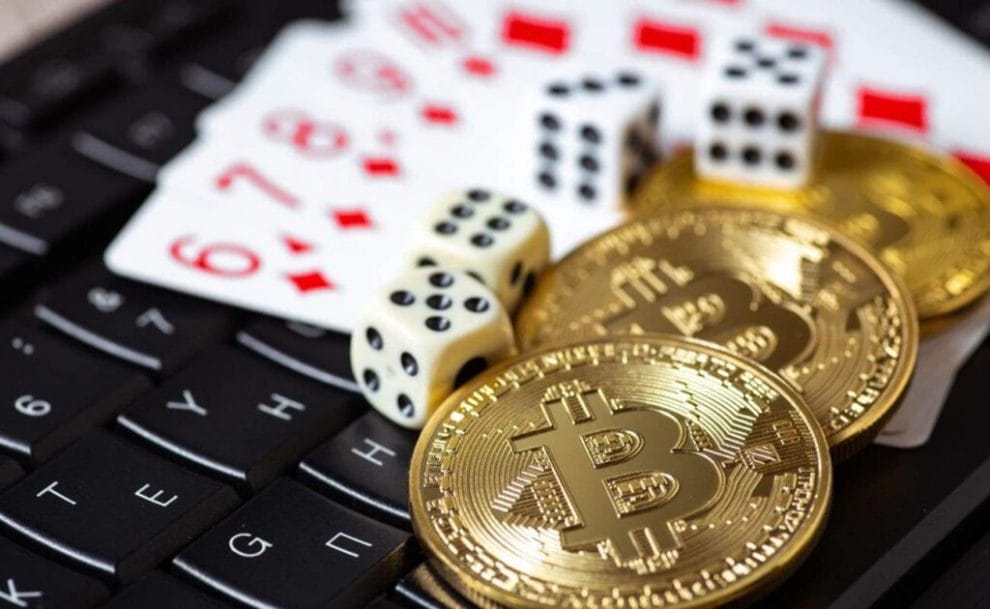 As the number of different types of crypto accepted by casinos increases, the options for storage grow more diverse. The best crypto wallets stay ahead of the competition by offering increased security, complete privacy, and minimal fees.
If you're playing casino table games and enjoy gambling with crypto, here are five wallets that cover everything from hot and cold storage to multi-platform support.
1. Blockstream Green
Blockstream is a market leader that has excelled at making innovative wallets you can trust. Blockstream Green is its flagship mobile wallet, designed to be easily accessible on iOS and Android devices. While it only supports Bitcoin and Liquid, the wallet boasts advanced features that grant greater control of your funds and transactions.
2. MetaMask
MetaMask supports many crypto assets, including Ethereum, USD Coin, and Tether. It also supports assets built on the Ethereum blockchain network and NFTs you've purchased. The only downside is that you can't convert coins to fiat currencies, which would make your wallet less secure.
3. Electrum
As one of the oldest wallets available, Electrum is backed by over a decade of development experience. It's a hybrid service offering hot and cold storage options, with additional space for add-ons such as multi-signature services and phrase-based passwords. The main drawback is the lack of support for anything other than Bitcoin.
4. Exodus
With multi-network support, an intuitive interface, and support for over 350 digital assets, Exodus is an excellent choice for your first wallet. The beginner-friendly design makes it incredibly easy to manage your coins, while token support services ensure that any issues you encounter are resolved as quickly as possible.
5. Ledger Nano S Plus
One of the major benefits of crypto gambling is the immediacy and anonymity of transactions. If you have several different coins and prefer to have them all stored in one place, the Ledger Nano S Plus should suit your needs with no issues. The pocket-sized cold storage device supports over 5,000 cryptocurrencies, is competitively priced, and can have dozens of apps installed on its internal memory.
Go Digital With Borgata Online
Looking for extensive payment methods, peerless service, and authentic casino entertainment? Register with Borgata Online to play the best casino games, find communities of fellow gamers, join the most exclusive online poker tournaments, and explore an endless selection of sports betting options.