With summer slowly ending, it's time to bid your seasonal hobbies and sports a fond farewell. But playing games indoors might feel a bit limiting compared to the seemingly endless activities you've been enjoying. After years of playing the same thing, board games can start sounding like bored games. Luckily for you, bingo is an excellent and versatile game that you use to replace your overused roster of the usual suspects.
You can even make the game your own using our autumn themes. Once you know how to play bingo online, you'll discover that there's so much more fun to be had with Borgata Bingo, no matter the season. Read on, and we'll introduce you to some great fall-inspired bingo themes.
A bingo variation for every occasion
The chillier weather is a great excuse to stay in and play bingo with friends. To make things interesting, surprise your friends and family with a fresh bingo variation instead of the traditional 75- or 90-ball bingo versions. Here are a few ideas.
Speed things up with 30-ball bingo
30-ball bingo, also called speed bingo, uses 30 numbered balls and gets players to mark off a 3×3-grid bingo card. The smaller bingo card is ideal for quick rounds. But the speed is more than just a time-saver: it makes each round thrilling and fast-paced!
Turn the game upside down with death bingo
Death bingo turns your average bingo game on its head. Instead of trying to be the first to mark off your numbers and call bingo, the aim is to be the last player standing without having called bingo.
Up the ante with bingo bonanza
Bingo bonanza starts with a standard variation like 75-ball bingo. The twist is that the players are given a head start of 43 numbers to mark off. After that, the caller will call the numbers as usual. In this variant, the prize or jackpot grows until one player gets bingo.
Test your luck with blackout bingo
There are hundreds of 75-ball bingo patterns today. In cover-all or blackout bingo, players don't have to create a pattern. Instead, they have to cover all of their squares before shouting bingo.
Trade the balls for playing cards in flash fives bingo
If you're not going to play bingo online, you might be worried about getting the right playing equipment and tools. In flash fives, all you need are playing cards. Instead of bingo cards, players get five playing cards. When their card is drawn from the deck by the caller, the player marks the number by turning the card face down. The first person to turn over all their cards wins!
Choose your own lucky numbers with bingo U pick-em
Startle your friends and family and present them with a blank bingo card. U pick-em works exactly like bingo, except players fill their bingo cards with their own lucky numbers.
Fun fall bingo themes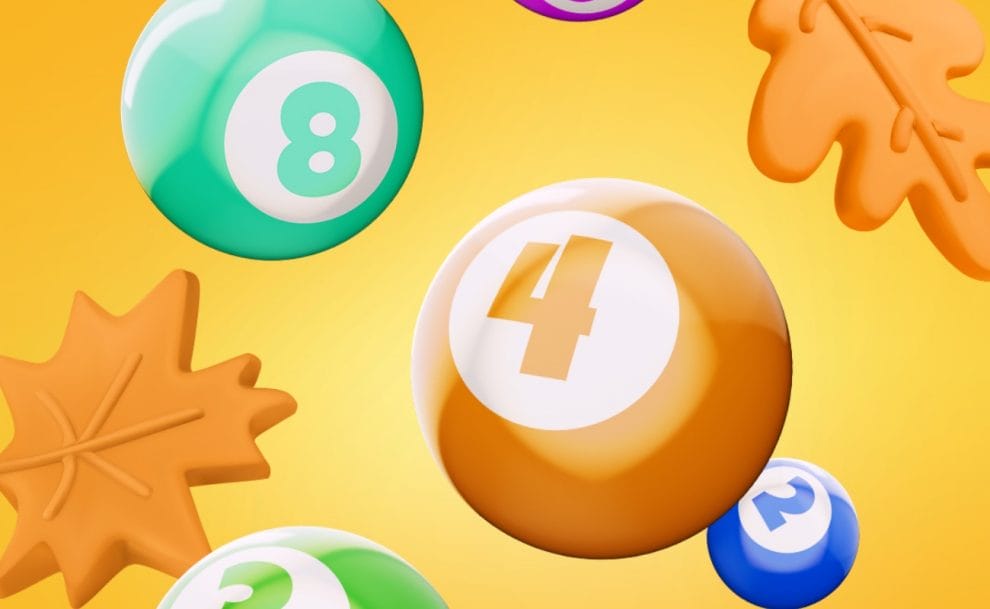 What's bingo without a fun theme? This autumn, bring your game to the next level with these clever bingo themes. Feel free to use decor, custom bingo cards, unique prizes and relevant bingo patterns to help bring the theme to life.
Bingo themes don't have to be a lot of work. Many websites offer customizable themed bingo cards to download and print. Alternatively, use an online bingo site with your theme of choice and let your friends use their phones to play along.
Halloween
Halloween is a fantastic theme to turn into a bingo game – partly because Halloween events are the most fun to decorate! Commit to a full-blown creepy spookfest, or keep it simple with pumpkins and spider webs. Since it's a popular holiday, it is easy to find virtual Halloween bingo cards online.
Thanksgiving
A thanksgiving bingo game can incorporate popular holiday traditions and foods. You can even plan a game the day after Thanksgiving and serve those delicious leftovers. Bring in the warm orange fall colors into your decor – and bingo cards. Meanwhile, pumpkin ornaments or a handmade turkey trophy are fun ideas for quirky bingo prizes.
Oktoberfest
You don't need to be in Germany to celebrate Oktoberfest. Bring this Bavarian cultural tradition into your game with Oktoberfest costumes, decor and local specialties. Novelty beer mugs can work as unique theme-appropriate prizes. Make sure you create a traditional Bavarian soundtrack to get your friends in the holiday spirit.
Dia de Los Muertos
The Day of the Dead, a Mexican holiday celebrating and appreciating ancestors, falls right in autumn on November 2. If you like the sound of this theme, get vibrant and colorful bingo cards to match the holiday's garlands. Make sure your decor also features the most prominent symbol of the day – skulls. Sombreros and homemade flower crowns would make great bingo prizes, while a Mexican feast featuring burritos, tacos and churros would be a definite crowd pleaser.
Country
The fall is an excellent time to embrace everything you love about country living, from markets and fairs to farms and animals. Host a country-themed bingo event and serve all the treats you would find at country fair markets like deep-fried Oreos and funnel cakes. Create bingo cards with a "Wanted" Western theme online and maybe even buy cowboy hats to use as the coveted prize.
Skip the prep and play online
Playing bingo at home online has its perks, and they go beyond needing zero preparation and equipment to play. With online bingo games, you can play bingo anywhere, alone or with friends, whenever you want. With everything automated, you can engage with your friends or fellow players online using bingo chat games. So if you're all logged into the same game, you don't even have to be in the same physical space to play against each other! Virtual bingo gives you the freedom to play with multiple bingo cards to increase your productivity and your chances of winning.
Whoever said you couldn't have your cake and eat it too was clearly lying. If you choose Borgata Bingo as your platform, you can play bingo and slots in one game, Slingo. Our platform has everything you love about bingo packed into a secure, mobile-friendly app and website.
Relax and let Borgata Online host your next bingo game
Even the world's best hosts need a break sometimes. Why don't you skip the planning and prepping and let Borgata Online host your next game? We're ready to welcome you to our interactive gaming platform with exciting bingo promotions, bonuses and more. The Borgata Bingo experience isn't like any other virtual bingo experience. Not only do we offer games like No Lose Bingo and Penny Bingo, but we offer daily prizes, free games, chat games and amazing bingo jackpots.
Register with our online casino to experience effortless entertainment for yourself.