Dust off your Stetson hat, polish your spurs and clean your gun. It's time to saddle up for some high-octane Wild West action with the 12 Western Horseshoes slot. You'll hear the blues as you play, but you won't feel them – not when there are horseshoe scatter symbols to collect. The more of them you reel in, the more you can potentially win. Add high variance, wilds and free spins, and you've got yourself one of the most entertaining online casino games on the market. Before you strike out for the badlands, though, plan your journey with our review.
Game overview
12 Western Horseshoes is a high-volatility slot with a Wild West theme. Bounty-hunting is the name of the game, but instead of bandits and outlaws, you're collecting golden horseshoes! The action unfolds on a 5×4 grid suspended against a background of red buttes and a big sky filled with dust clouds just as the sun is going down. Above the reels, you'll see a counter that resembles the barrel of a six-shooter. It's called the Lucky Barrel, and its purpose is to keep track of the horseshoes you collect. On the reels, the lower value symbols you'll encounter are a bar, double bar, triple bar and triple 7, all done up in shiny blue steel and a nice change from the playing card symbols that are so common in online slots. As for the high-value symbols, they're everything you'll need to complete your mission: A whip, boots with spurs, a Stetson hat and a pair of peace-bringers – or revolvers, if you prefer. There's a wild symbol in the shape of a copper W and a free spins symbol that looks like a sheriff's badge. The scatter symbol is the golden horseshoe, and it plays an important role in the main feature.
How to play
To play the 12 Western Horseshoes slot, first set your betting level. The maximum number of coins you can bet is 50, with a minimum bet of $0.20 and a maximum bet of $25. Be sure to check the paytable to make sure you understand the paylines and potential wins. Then it's time to spin the reels like a gunslinger! To form winning combinations, symbols have to land on the reels in succession from the leftmost to the rightmost position. If you get wins on different lines simultaneously, you get to keep them all, but only the highest win per payline. If you've played casino games before, you'll know that the wild symbol substitutes for all other symbols except for free spins symbols and horseshoe scatters, and it awards the highest possible winning combination on a line. Landing at least four scatters in one spin in the base game pays out when the spin is complete.
Graphics and soundtrack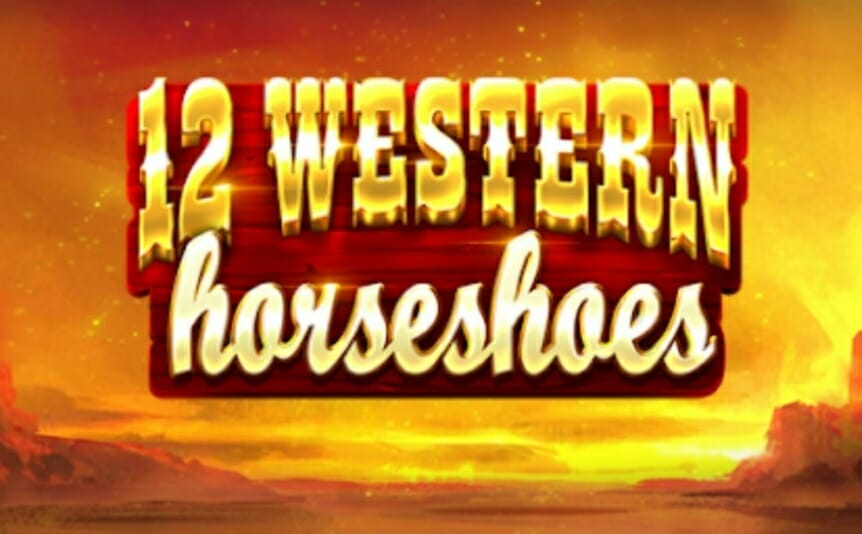 12 Western Horseshoes is a finely-crafted slot that truly does justice to the Wild West theme. The symbols are finely detailed and stand out bold and bright on the reels. The landscape itself creates the kind of brooding atmosphere that you'll find in classic Western movies such as Unforgiven, Pale Rider and True Grit. You can almost smell the dust and gunsmoke. And there's always a feeling that something big is just about to happen. This builds suspense and makes the game more enjoyable. Adding to that is the effect created by this slot's heavy blues soundtrack. You'll hear echoes of just about every Western movie as you spin the reels, along with whip-cracking sound effects that lend rhythm to the action. If visuals and sound effects are important to you, then you'll definitely want to add 12 Western Horseshoes to your collection of Wild West-themed online gambling slots.
Features
The main event of the 12 Western Horseshoes slot is a free spins feature. Chances are you'll be familiar with the concept if you've played slots online before, but this one comes with a twist. Land three free spins symbols – they only appear on reels 2, 3 and 4 – to receive an award of three free spins. Here's where the horseshoe scatter symbols kick in. Instead of paying out when they land, they're collected and tracked on the Lucky Barrel up to a maximum of 12. The more you collect, the bigger the pay-out at the end of the feature. And the more you collect, the more chances you have to collect more. That's because every time a horseshoe hits the reels, the free spins meter resets to 3. No wonder folks say that horseshoes can be lucky.
Bonuses and jackpots
Every player has their own personal list of the best online slots. High volatility, low volatility, jackpot slots – it all depends on your style of play. The 12 Western Horseshoes slot falls into the high volatility category of slot machine games online, which typically means dry spells livened up by larger than average wins. It's more of a gamble than low-volatility slots, but it's potentially more rewarding. Somehow that's quite appropriate for a Wild West theme. In this specific case, you can get a cash bonus in two ways. If you land four horseshoe scatters in one spin in the base game, you receive a pay-out as a multiple of your total bet (see the paytable for more details). But the big event, if it takes place, happens in the free spins feature. If you land 12 horseshoes in a single spin, you'll be awarded the maximum bonus of 10,000x your stake.
Similar games
12 Western Horseshoes is only the latest addition to the growing family of online casino games set in the Wild West. There are plenty more where that came from, such as these premium online slots:
Wild Wild West: The Great Train Heist – strap on your six-shooter; it's time to rob the train!

Bounty Raid: Take on the desperadoes and enjoy re-spin scatters and a sheriff bonus multiplier.

Slingo Showdown: The rustic Western Slingo that combines slots and bingo in a poker showdown.

Take it easy at Borgata Online
Gambling was taken seriously in the Wild West – maybe a little too seriously, if the shootouts attributed to gambling disputes are anything to go by. You won't have any such hassles if you sign up at Borgata Online. We take pride in our job so you can enjoy recreational gambling with total peace of mind, knowing that you're safe and secure at all times. Whatever your game, from the best online slots to live dealer games in our online casino, we've got you covered in every way.